Weston-super-Mare 2 Marine 2 (4-2pens)
Emirates FA Cup 2nd Qualifying Round | Saturday 3rd October 2020
Back to blog posts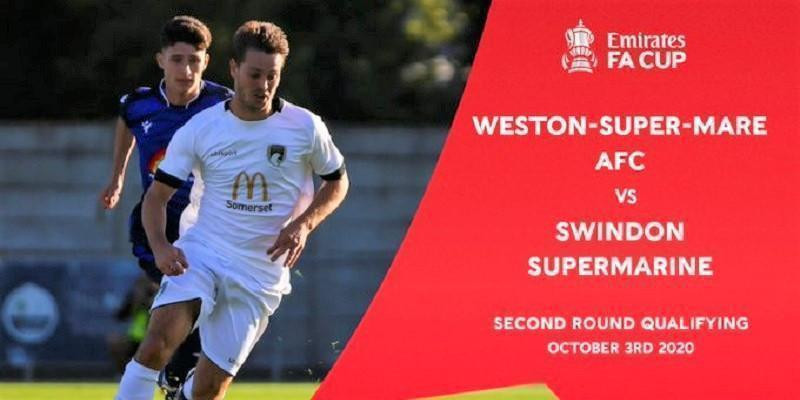 MATCH REPORT from ALECK EVERARD
NO RUB OF THE GREEN BY THE SEASIDE
Marine exited the Emirates FA Cup at the Second Qualifying Round stage on Saturday afternoon despite never being behind all afternoon. Having travelled to the Optima Stadium by the coast at Weston-super-Mare with a tough game in prospect away at one of the big spenders of the Pitching In Southern League the task was made tougher by monsoon like conditions that saturated the pitch ahead of kick off. Puddles of water were widespread under the green surface making passing very difficult. Marine went back to the tried and tested formula of a side that had won at Farnborough away on the opening day. Louis Spalding returned at left back and Harry Williams up top.
In their change strip of all red, kick off was delayed further when Martin Horsell was asked to change his yellow outfit as it clashed with the home keeper, although I understand the home team had their keeper down as green and the refree had a copy of our team sheet which had us down as all yellow?.
Weston had an early free kick headed wide by Greg Tindle. But it was Marine who struck first. Nick McCootie pulled back Louis Spalding just inside the box and Brad Hooper stepped up to send keeper Luke Purnell the wrong way from the spot. Weston were next to show on 15 minutes, a rasping effort from James Waite striking the post and bounced away to safety.
Martin Horsell was called into action pushing a shot from Jacob Cane around the post on 20 minutes. Harry Williams all most got Conor McDonagh in soon after but Purnell was quick to react and just got there first. It was end to end and Tindle glanced a header just wide on the half hour for the home side. Hooper was then booked for a pull before McDonagh poked what would have been a spectacular finish wide of the goal from a Pierce Mitchell cross.
Marine had defended well but were finally undone shortly before half time when James Waite's got to the bye line on the right wing, before sliding the ball across for former Marine loanee MIKE SYMONS to score from close in. McCootie then had the last effort of the half from fully 25-yards but Horsell got his body behind the fierce shot and pushed it away. An even half with all to play for in the second.
HT: 1-1
Michael Hopkins came on at the break for Pierce Mitchell with Louis Spalding switching to right back and Marine looked up for it early on in the restart. A Jamie Edge free kick only just found McDonagh offside in a tight call when clear through.
Weston were looking a bit more desperate as long range way off target efforts from Cane and Grubb flew well wide. Despite good possession Marine were not finding the killer pass. On the hour Waite came closest but once again Horsell got down well to beat it away and from this a long clearing ball found Harry Williams through on goal before he was brought down on the edge of the box by Tindle who received a yellow card. Although there was a debate over whether he was actually inside when the foul was committed a free kick just outside the box was given. Nevertheless, it was a free kick from Hopkins that was blocked by the wall and Harry Williams hit the rebound over the bar.
Marine finally found the right combination a minute or so later. By this time we were looking vary dangerous on the counter attack and from one of these a neat passage of passing found Williams in space and he's measured pass to McDONAGH sent him away in the right-hand side of the box. He skilfully went past two defenders before expertly sliding the ball into the corner of the net to give Supermarine a 2-1 lead on 66 minutes. Both Williams and Edge were booked for dissent in the next ten minutes, in between Brad Hooper headed just over from Williams cross.
On 79 minutes Williams could have wrapped it up as Purnell spilt an effort from Ryan Campbell but he could only find the wrong side of the post from a yard out and at an angle. Joe Shepherd replaced him shortly after as Marine looked to tighten up for the final ten minutes.
Then following a harsh handball call by the referee, with Hooper jumping just a few feet of the player crossing the ball it hit his arm and a second yellow and subsequent red was given and the amazement on everyone's face could be seen. The to rub salt in the wound from the free-kick the ball found it way to SAM AVERY who had time and space to fire home a leveller, although a blatant push in the back that toppled skipper Mat Liddiard went unpunished with the referee standing in front of goal and having a full view of the incident. Marine did well to see out the remainder of the game with 10 men, Horsell again doing well punching away a couple of corners and a good low down stop from Laird.
So under the new rules it was straight to penalties. Marine went first and Zack Kotwica's effort was stopped but the keeper had left his line too early and a retake was ordered which he duly converted. Weston's Scott Laird levelled it up before a fine Jake Lee penalty made it 2-1. Grubb made it 2-2 before a fine save by Purnell diving full stretch denied Ryan Campbell. McCootie slammed home for 3-2 before McDonagh was unlucky as he ball clipped the bar allowing young substitute Ryan Jones the chance to win it for Weston which he duly did.
A tough exit to take as the side had played really well on the day in treacherous conditions and deserved more than they got. But once again they will take heart from the performance against another good side and hope to start converting some wins in the league staring on Tuesday at home to the Met Police. My star man Martin Horsell who looked a class act on a difficult day for keepers.
FT: 2-2 (Weston won 4-2 on pens)
Attendance 277
MATCH LINEUPS
WESTON-SUPER-MARE


Managers: Scott Bartlett
Line-up: 1. Luke Purnell 2. Keiron Thomas 3. Scott Laird 4. Chris Knowles 5. Sam Avery 6. Greg Tindle 7. Nick McCootie 8. Jacob Jagger Cane 9. Mike Symons 10. Dayle Grubb 11. James Waite (15: Ryan Jones 88m)
Subs not used: 12. Aaron Parsons 13. Dan McGreevy(GK) 14. Matt Jones 16. Lewis Hall 17. Lloyd Humphries 18. Sam Hendy
Goals:

Mike Symons 40m

Sam Avery 88m
Star Man: James Waite
Cards:
Scott Laird 55m, Greg Tindle 66m


None


None

SWINDON SUPERMARINE


Manager: Lee Spalding
Line-up: 1. Martin Horsell 2. Pierce Mitchell (Michael Hopkins 46m) 3. Louis Spalding 4. Jamie Edge 5. Jake Lee 6. Mat Liddiard (c) 7. Zack Kotwicka 8. Brad Hooper 9. Harry Williams (15. Joe Shepherd 86m) 10 Conor McDonagh 11. Ryan Campbell
Subs not used: 14. Henry Spalding 15. Jack Stanley 16. Joe Shepherd 17. Lee Marshall 18. Tommy Ouldridge Goals:

Brad Hooper 9m

Conor McDonagh 66m
Star Man: Martin Horsell
Cards:
Brad Hooper 35m Harry Williams 80m, Jamie Edge 85m


None


Brad Hooper 88m

MATCH HIGHLIGHTS from YOUR SPORT SWINDON
MATCH OFFICIALS
Referee: Stuart Kane
Assistant Referee's: Ollie Taylor, Said Ouchene