Bishops Cleeve 1 Marine 2
Friday 21st August 2020
Back to blog posts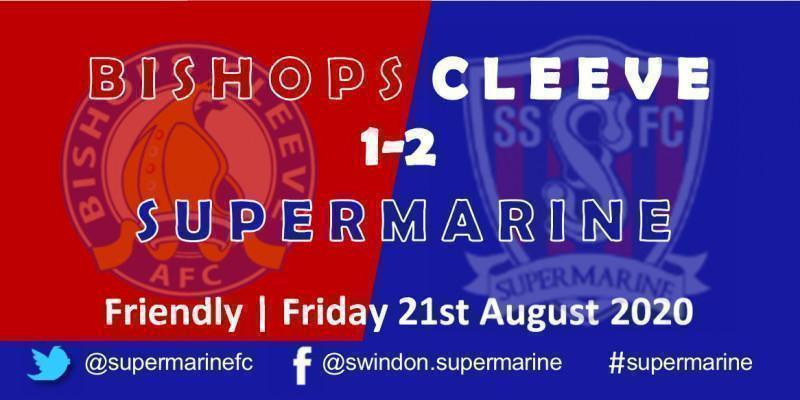 MATCH REPORT from ALECK EVERARD
MARINE WIN SCRAPPY AFFAIR
In a hastily arranged game Marine made the trip down to Gloucestershire to take on Hellenic League Premier high flyers Bishops Cleeve under their new boss Paul Collicutt.
Marine welcomed back Michael Hopkins to the squad for the first time this pre-season, with a start also for Joe Shepherd with Henry Spalding, Pierce Mitchell and Tommy Ouldridge on the side-lines with injury.
Cleeve got things underway wearing a change strip of maroon and bright orange which looked very smart. The early stages lacked quality as the rustiness was still there for both teams. Hopkins, playing on the left wing swung in an early free kick but skipper Mat Liddiard put it wide, pictured below.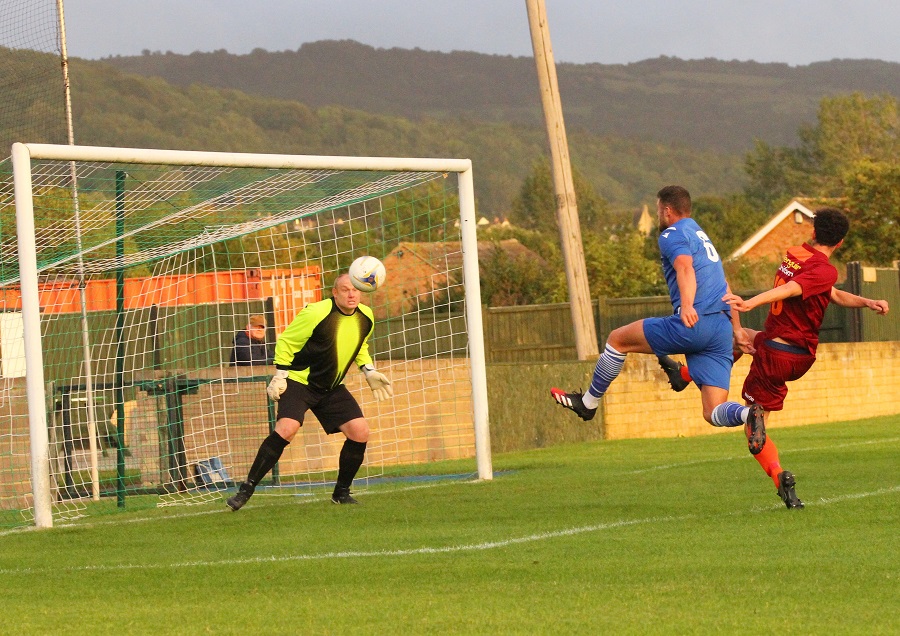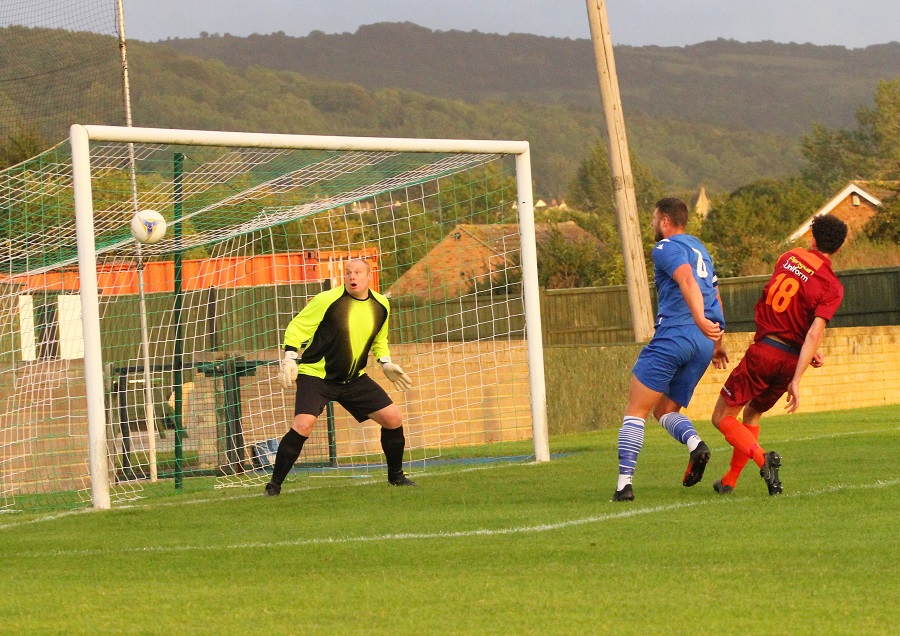 Mat Liddiard volleys just wide in these two photo's
© Jeff Youd Photography
Hopkins himself poked a ball wide after 10 mins and then Jack Stanley played in Shepherd on 19 minutes but he could only put it into the side-netting. Cleeve were more than holding their own with striker Ieuan Crowe looking a big threat up front.
Finally on 26 minutes Marine had a golden chance to open the scoring. Hopkins was involved as he was tripped just inside the area for a penalty kick, which he decided to take. He might have wished he hadn't as his spot kick went very high, perhaps understandably, having played only 26 minutes since March! View his penalty miss
Zack Kotwica was next to have a go but once again once found the side netting before the frustration continued, then Campbell put through Hopkins but he shanked it wide.
CAMPBELL, who was had a fine game once he switched to his normal left wing position broke the deadlock on 33 minutes. He finished with a low drive into the corner after a neat one-two in the box with Kotwica.
Within five minutes it was 2-0 as another went in. Kotwica's superb and dangerous cross was met by the Cleeve defender LEROY ODIERE who put into his own goal from a yard out.
Soon after good link up between Conor McDonagh and Campbell put Kotwica through on goal but he lost control at the vital moment. The last chance of the half fell to Campbell who was denied by an excellent save from former Marine keeper Kev Sawyer.
A decent first half in the end – getting stronger as the game went on and looking even strong in central defence.
HT: 0-2
With many changes at half time which saw Shepherd and Hopkins drop to the full-back positions Marine came out a little unsettled in the second half.
Cleeve took full advantage and it was that man CROWE with a fine turn and shot inside the penalty area to get the hosts back into the game just three minutes into the second half. Marine took time to adjust to the alterations and Martin Horsell was forced into a good save pushing away a wind assisted free kick on 52 minutes.
Marine started to settle, in particular Harry Williams who seemed to have a point to prove with a run and shot that was blocked by Sawyer, and then with another shot saved on the hour. Cleeve were starting to launch the ball long with the wind which caused a few problems for the Marine backline but Liddiard and Jake Lee were equal to the task.
Harry Williams continued to look like a man on a mission and had a couple more attempts at goal. The second a fine header that went just over the bar.
Horsell went off with twenty minutes to go in order to give youngster Louis Evans (son of goalkeeping coach Rhys) a chance to impress. Instead it was Bishops Cleeve player Evans who almost made a name for himself when put clear through but he skewed the ball off the side of his foot and the panic was over. Liddiard went close from a corner on 80 minutes when his header was palmed over but the game petered out from there.
Overall not the best display from Marine but a win secured and more importantly more fitness gained in a difficult wet and windy environment.
FT: 1-2
MATCH LINEUPS
BISHOPS CLEEVE


Manager: Paul Collicutt
Line-up: 1. Kevin Sawyer 2. Ritchie Thwaites 3. Leroy Odeirs 4. Archie Hayskayne (c) 5. Matt Sysum 6. Harry Burns 7. T. Black 8. S. Blackie 9. M. Evans 10. Ieuan Crowe 11. Harrison Iddles
Subs: 12. M. Heaney 14. Oscar Bignall 15. M. O'Reagan 16. L. Price 17. Taylor Kite 18. A. Caldwell
Goals: Ieuan Crowe 48m


Star Man: Ieuan Crowe
Cards:
None


None


None

SWINDON SUPERMARINE


Manager: Lee Spalding
Line-up: 1. Martin Horsell 19. Louis Evans** 70m 2. Jack Stanley (15. Brad Hooper 46m) 3. Louis Spalding(16. Lee Marshall 46m) 4. Jamie Edge 5. Jake Lee 6. Mat Liddiard (c 7. Ryan Campbell (14. Rhys Wells 46m) 8. Joe Shepherd 9. Zack Kotwica (12. Harry Williams 46m) 10. Conor McDonagh(18. Cameron Allen 46m) 11. Michael Hopkins
Subs not used: None
Goals: Ryan Campbell 33m

Leroy Odeirs 38m


Star Man: Ryan Campbell
Cards:
None


None


None

MATCH HIGHLIGHTS from YOUR SPORT SWINDON
MATCH OFFICIALS
Referee: Matt Perry (Cheltenham)
Assistant Referees: Ollie Spender (Cheltenham), Alan Overthrow (Cheltenham)