Chesham United 1 Marine 1
Southern League Premier South | Tuesday 12th October 2021
Back to blog posts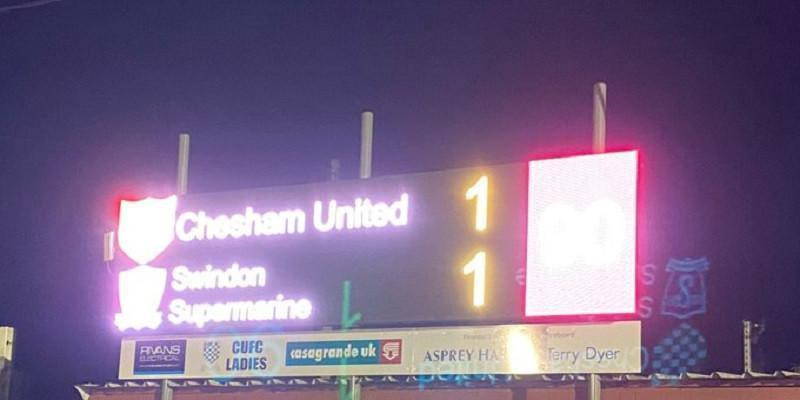 Match Report from Aleck Everard
Swindon Supermarine visited the The Meadow for their latest Pitching In Southern League Premier Division South clash with Chesham United on Tuesday night. A patched up defence saw the return of Pierce Mitchell to right back after a month on the side lines replacing the injured Michael Hopkins, Jamie Edge dropped back into the defence with Tyrone Duffus suspended after his double yellow at Salisbury last week and Dan Ball being recalled by Bath City on Monday.
George Dowling also made his first league start after injury in midfield. Up top, having not started Saturday, Henry Spalding, Zack Kotwica and Chris Zebroski all returned to the front line with Frankie Artus continuing to be sidelined and Pablo Haysham returned to the squad on the bench.
Arriving later than normal for a midweek game due to traffic, it was a swift warm up session with the players hitting the pitch a mere 45 minutes later with the game starting amidst some light drizzle which both sides struggled to deal with early doors. The rain slowly became heavier but Chesham were applying the early pressure having the first shot from the lively Brad Clayton. Brandon Barzey had the next go but keeper Martin Horsell safely gathered in the wet conditions.
Chesham almost broke the deadlock in the 23rd minute when Clayton's superb free kick pinged back off the post but this inspired a better spell of play from Marine. Conor McDonagh who looked lively all evening saw his cross in just punched away by home keeper Sam Beasant under pressure and following a good team move on the half hour the ball dropped to Henry Spalding but he shot wide of the goal.
Pierce Mitchell was quite harshly booked just before the break after a soft foul. And with both sides seeming content with their first half efforts a goal in first half stoppage time came out of nothing. Centre forward Daniel Boateng-Opoku hit an effort from outside the box which Martin Horsell pushed the ball wide of the goal but the lively BRADLEY CLAYTON was quickest to react and smashed home the opening goal Mitchell made an attempt to blocked the shot. There was no time to restart and Marine would have been kicking themselves for ruining a decent enough half.
The Marine players looked determined to up the ante and make up for their late mistake right from the off in the second period. Chesham's Isiah Jones booked early on for a pull on Brad Hooper. Zack Kotwica broke through but his effort was straight at the keeper. Chesham then responded with two good moves. The first was repelled well by Martin Horsell who clung on to the shot and then another mazy run and shot over the top from Clayton went close.
With the game starting to drift away again Manager Lee Spalding made a couple of changes, with Ryan Campbell on for Zack Kotwica, and David Pratt replacing Chris Zebroski. And it did the trick as within minutes Campbell was soon running at the Chesham defence and within minutes from coming on he found Conor McDonagh who flick headed the ball over keeper Beasant who had come rushing out of his goal. The ball fell to DAVID PRATT just a few yards from the goal with the keeper stranded. He threw himself at the ball to head it over the line despite the late attention of two defenders for his fourth league goal of the season.
Shortly afterwards Marine had a great chance to win the match. A superb move and flick by McDonagh released Henry Spalding through on goal with just the on rushing keeper to beat but his effort was deflected just wide by the keeper although no corner was actually given? Moments later Chesham had one fierce effort pushed over the top by Martin Horsell as they looked to win it late on but the game petered out as both sides seemed content with the point.
Not a superb performance on a tricky pitch but with the late arrival and a slightly patched up backline Marine can look on this point as something to build on as they seek their first win since the 30th August at Walton Casuals on Saturday and kick start a playoff challenge. "It is important not to dwell on the past but to live in the present." We have the players and the ability we just need to believe. 'Keep the faith'.
Attendance: 209
Fans man of the match: Jamie Edge
Line Ups
Chesham United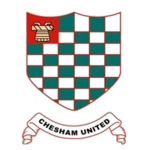 Manager: James Duncan & Michael Murray
Line-up: 1. Sam Beasant 2. Isaiah Jones 3. Lewis Rolf 15. Mark Kirby 5. Kieran Murphy(c) 6. Ronny Mfinda 7. Brandon Barzey (4. David Pearce 73') 8. T'Sharne Gallimore 9. Daniel Boateng-Opoku (14. Zak Joseph 66') 10. Bradley Clayton 11. Yasin Ben El-Mhanni (12. Karl Ollyide 83')
Goalscorer: Bradley Clayton (45+1')


Subs Not Used: 15. Eion Casey, 17. Showkat Tahir
Editors Star Man: Bradley Clayton
Cards:
Isaiah Jones 50', Ronny Mfinda 90', Zak Joseph 90'


None


None

Swindon Supermarine


Manager: Lee Spalding
Line-up: 1. Martin Horsell 2. Pierce Mitchell 3. Lewis Hall 4. George Dowling 5. Jamie Edge 6. Mat Liddiard (c) 7. Henry Spalding 8. Brad Hooper 9. Chris Zebroski (12. David Pratt 63') 10. Conor McDonagh 11 Zack Kotwica (14. Ryan Campbell 57')
Subs not used: 12. Pablo Haysham 15. Harry Williams 17. Louis Evans (GK),
Goalscorer: David Pratt 66'


Editors Star Man: Martin Horsell
Pierce Mitchell 41'


None


None

Video's from Your Sport Swindon
Match Highlights
Access to the highlights from all of Marine's matches can be viewed on a monthly subscription of just £2:50. Click the 'match highlights' above to subscribe.
Post-Match Team Sheet
Click here for post match team sheet
Match Officials
Referee: Matthew Norton (Waltham Cross)
Assistant Referees: Elliott Mayer (Arkley), Andrew Tregoning (Waltham Cross)