Farnborough 1 Swindon Supermarine 3
Pitching In Southern League Premier South | Saturday 19th September 2020
Back to blog posts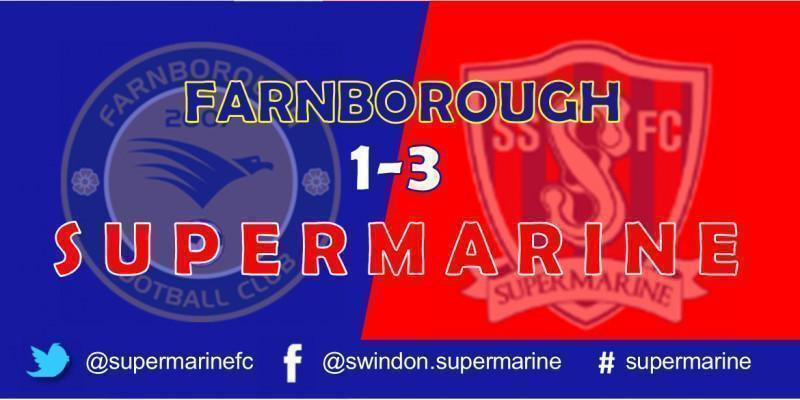 MATCH REPORT from ALECK EVERARD
SUPERMARINE WIN OPENING GAME AT FARNBOROUGH
Supermarine got their Pitching In Southern League Premier Division South campaign under on Saturday with a trip to the magnificent Easy as HGV Stadium at Cherrywood Road, Farnborough. Having won here last season Marine were keen to make a strong start to the campaign but clearly beginning away from home was going to make this a difficult task. In blisteringly hot condition of 25 degrees Supermarine took to the field in their good looking all red away strip.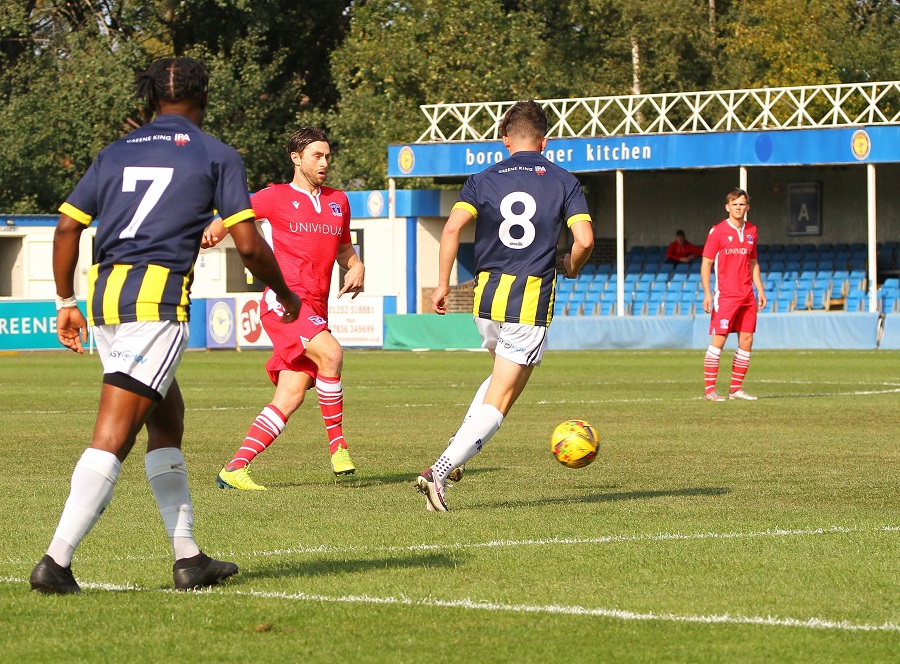 Brad Hooper starts an attack that led to the first goal
Photo ©Jeff Youd Photography
Match Album
Manager Lee Spalding opted for a 4-4-2 line up with Pierce Mitchell at right back and a front two of Conor McDonagh and Harry Williams being supplied by winger Ryan Campbell and new recruit Zack Kotwica and Marine started strongly applying some early pressure.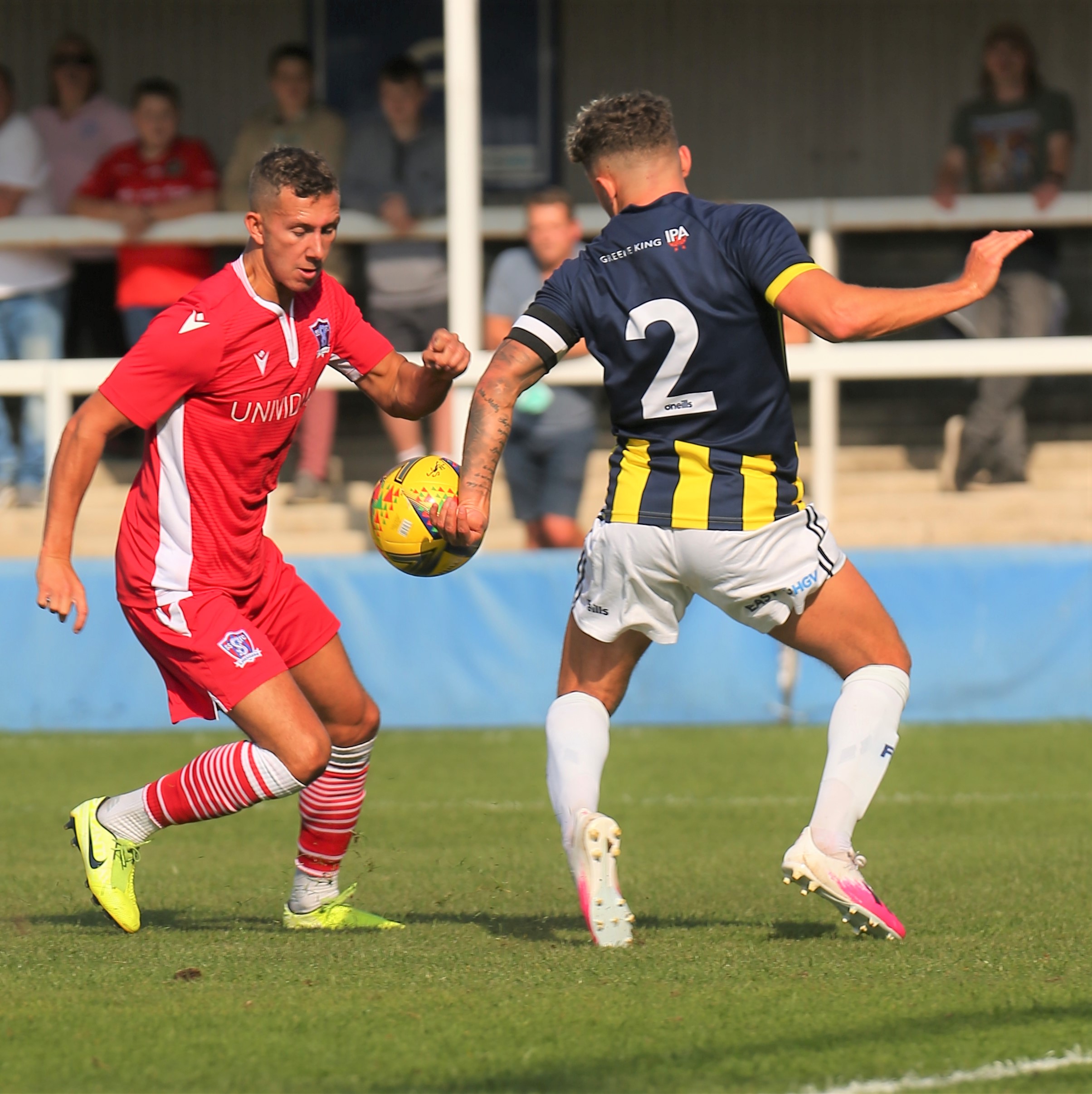 Harry is about to go past his marker
Photo ©Jeff Youd Photography
Match Album
Campbell in particular looking lively down the left side gained a couple of early corners. Slowly though Farnborough started to find their feet and the game became quite even in the early periods although somewhat drifting and quiet. Andrew Sealey-Harris looked a threat on the wings for the hosts beating Louis Spalding quite skilfully down the right before skipper Matt Liddiardcame across to cut out the danger on 21 mins but in truth neither side found their 'A' game early on.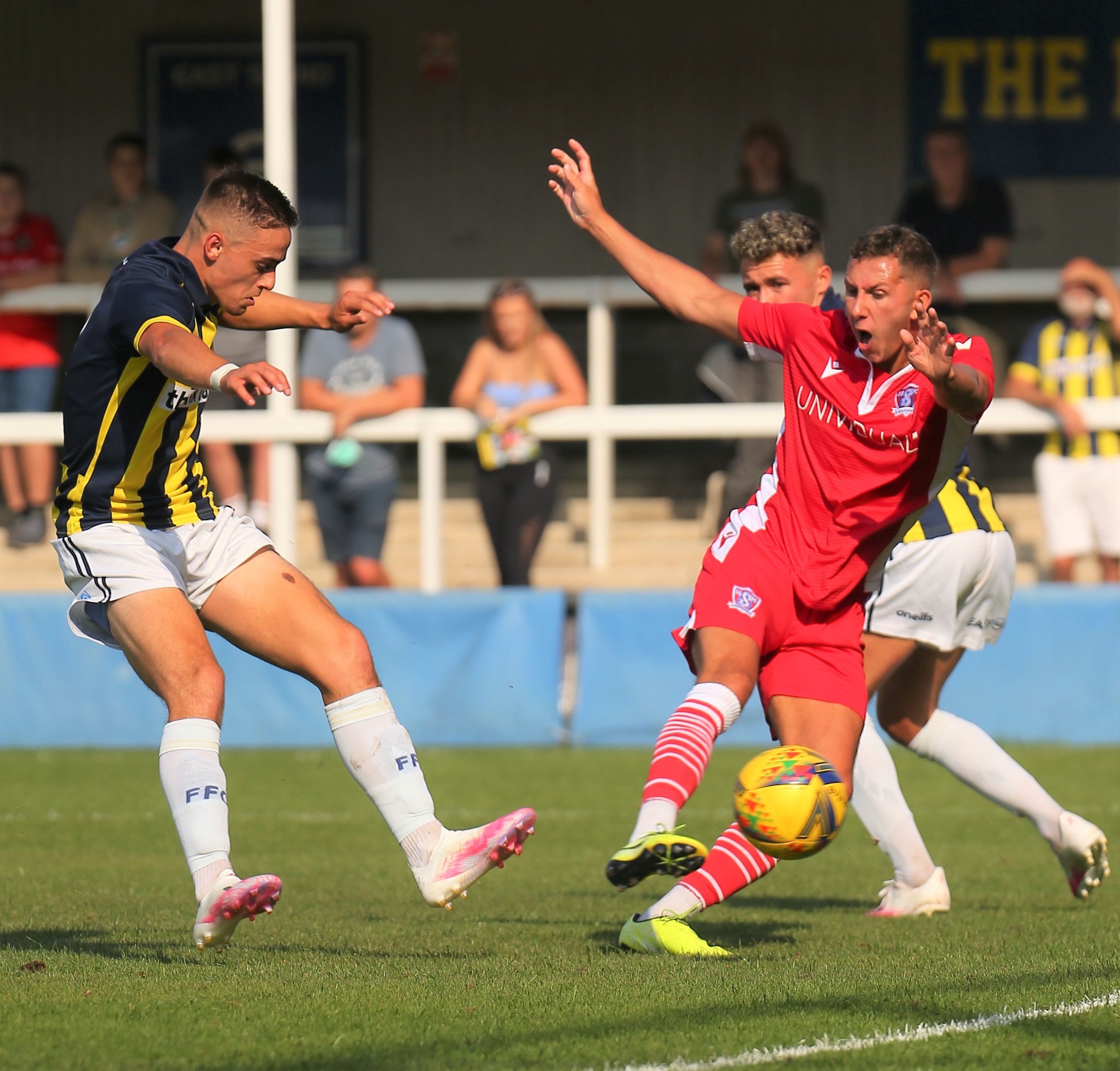 Harry creates room to score our opening goal
Photo ©Jeff Youd Photography
Match Album
On the half hour Marine started to find their passing range with Campbell still causing problems for the hosts earning a free kick which sadly came to nothing. But the increased tempo came good on 36 minutes. Brad Hooper played in whose first effort was blocked by a defender with his hand, and as he's teammates appealed for a penalty HARRY WILLIAMS was swift to get away his follow up shot which went under the home keeper and Marine had got their first goal of the new campaign.
This reflected on the pitch and very soon after a good move was cleared to the feet of Jake Lee who blasted over when from outside the box. Conor McDonagh was proving a handful for Bryan Akongo who eventually went into the book for persistent fouling just before half time. Just as the visitors were settling for going in at half time ahead Farnborough put together their best move of the half. An effort from Louis Dunne from the edge of the box found the Marine defence flat footed but thankfully the ball struck the post and came out.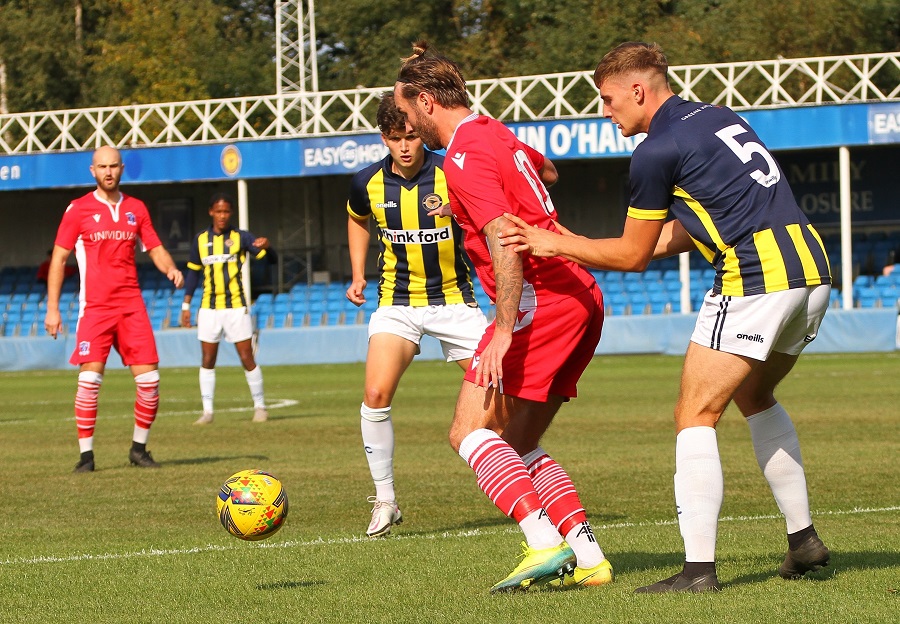 Marine star man Conor McDonagh on the ball
Photo ©Jeff Youd Photography
Match Album
HT: 0-1
Job done for the first half but the visitors did not look done for yet. No changes at the break but Supermarine came out looking a very determined side. The half time team talk seemed to increase their tempo and it was no surprise that just four minutes in the crucial second goal arrived. Pierce Mitchel broke away down the right and put over a beautiful cross which CONOR McDONAGH powered home into the the top of the net with his head. Farnborough responded with a double change knowing they needed to change things but by now Marine were confident and dominating before Zack Kotwica had a strike that deflected over for a corner, McDonagh then burst through and curled an effort just wide with only the keeper to beat.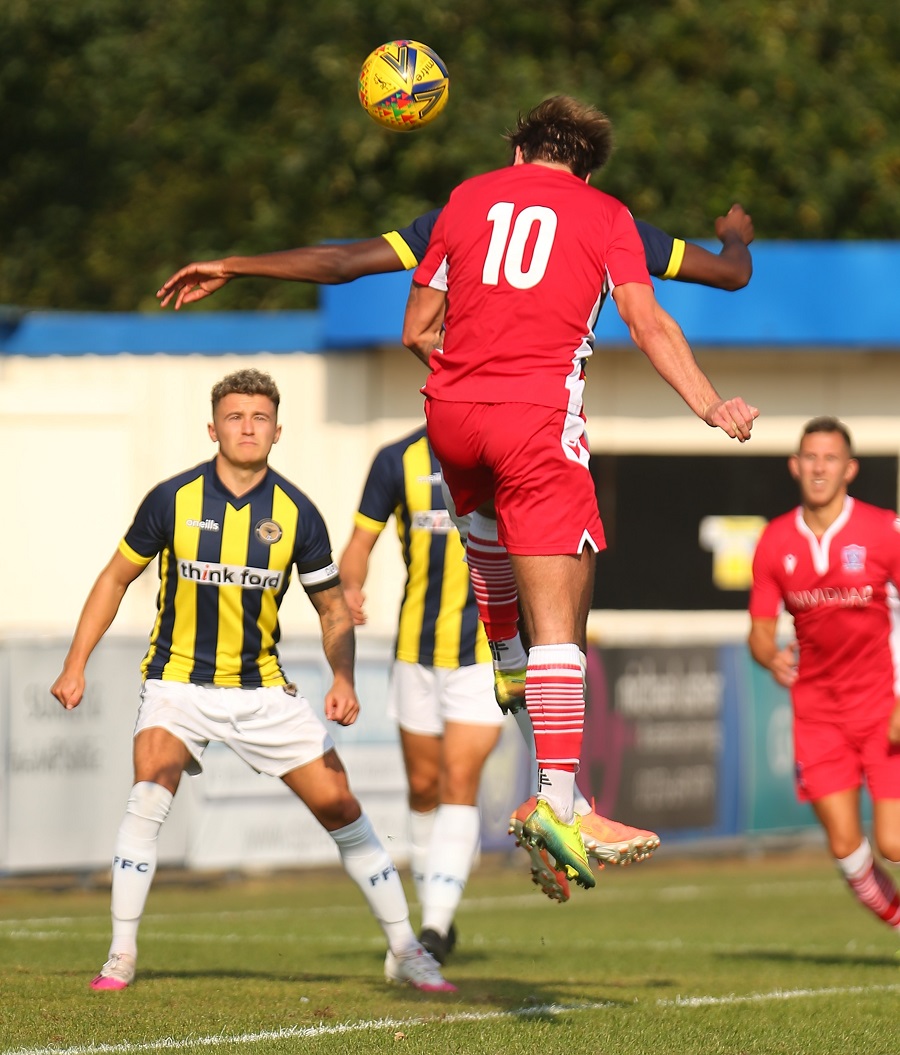 Conor heads home to score our second goal
Photo ©Jeff Youd Photography
Match Album
On the hour captain Liddiard went into the referee's book, mainly due to the totting up process of fouls across the team and not anything he had particularly done to earn the first yellow card of the season. Marine keeper Martin Horsell was called into action to deny Borough's Louis Paget on 65, following it up with another good interception a minute later to block Bryan Oyenuga as Farnborough came back into the game. Having weathered that brief storm with twenty minutes to go we sealed the points.
Brad Hooper made a superb interception having run a full 40-yards to gain back possession and fed away Harry Williams down the right. He combined superbly for a double one-two with ZACK KOTWICA who 'dinked' the keeper when through for a debut goal. The long time friends celebrated with a 1920s style handshake of appreciation.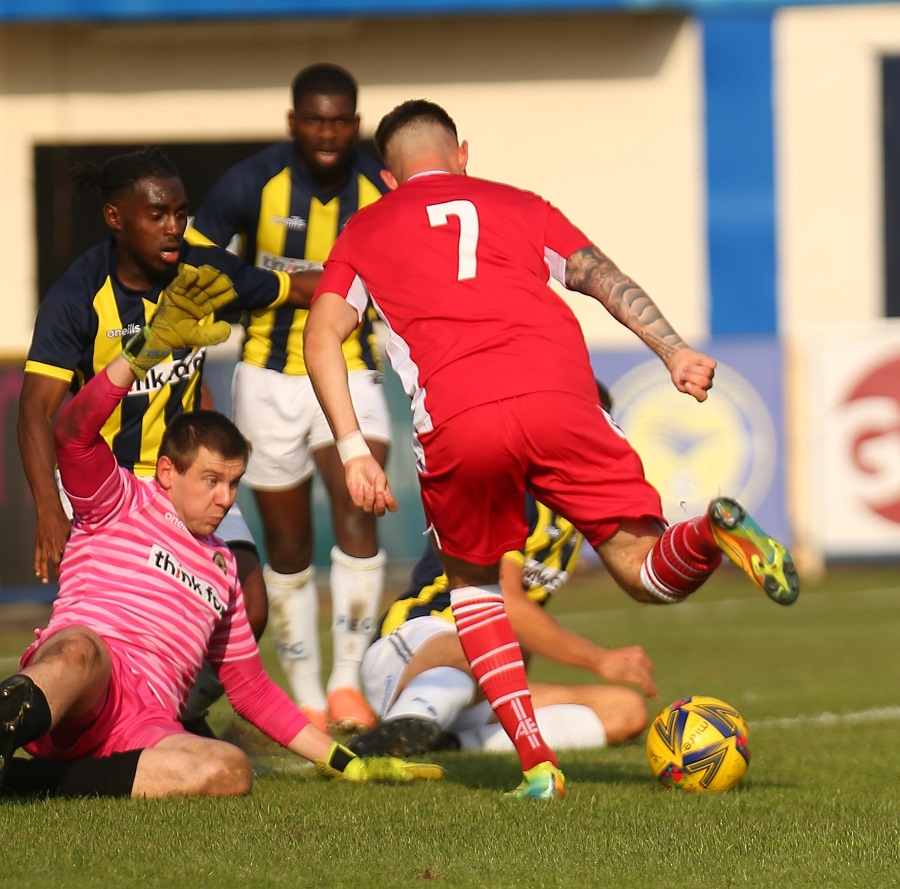 Zack dinks the keeper for our third goal
Photo ©Jeff Youd Photography
Match Album
Lee Spalding was able to make a couple of late subs with Joe Shepherd, Michael Hopkins and Henry Spalding coming on for the hard working trio of Williams, Hooper and Louis Spalding who were beginning to wilt slightly in the heat.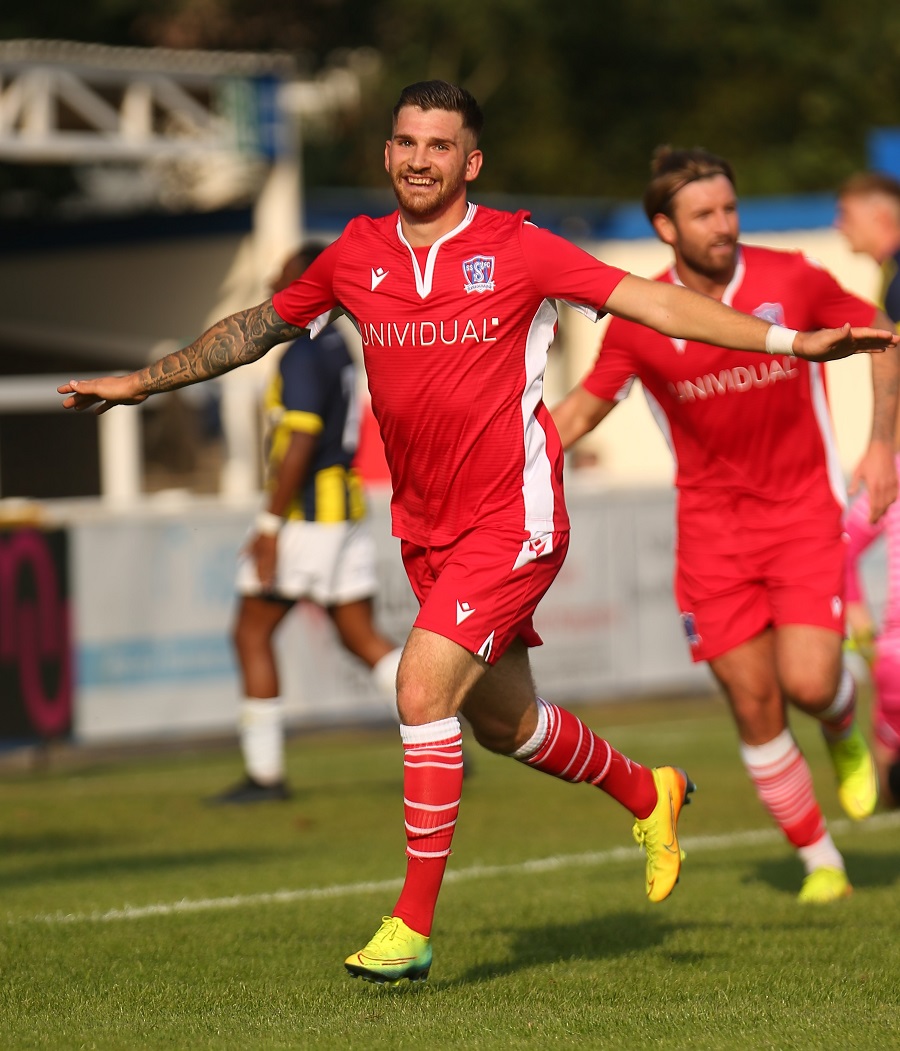 Zack celebrates his goal Photo ©Jeff Youd Photography
Match Album
Conor McDonagh put another effort wide on 76 minutes. Whether it was a gung-ho approach from the hosts or Marine taking their foot off the gas the last ten minutes it was generally all Farnborough. They had a strong appeal for a penalty turned down. Sealey-Harris who looked lively all day broke through but fired wide. But with one minute on the clock it looked like it would be four. A superb run from Kotwica beating a couple of defenders and the keeper only to run out of steam and slice the shot over when it seemed easier to score. A great debut nonetheless from the player.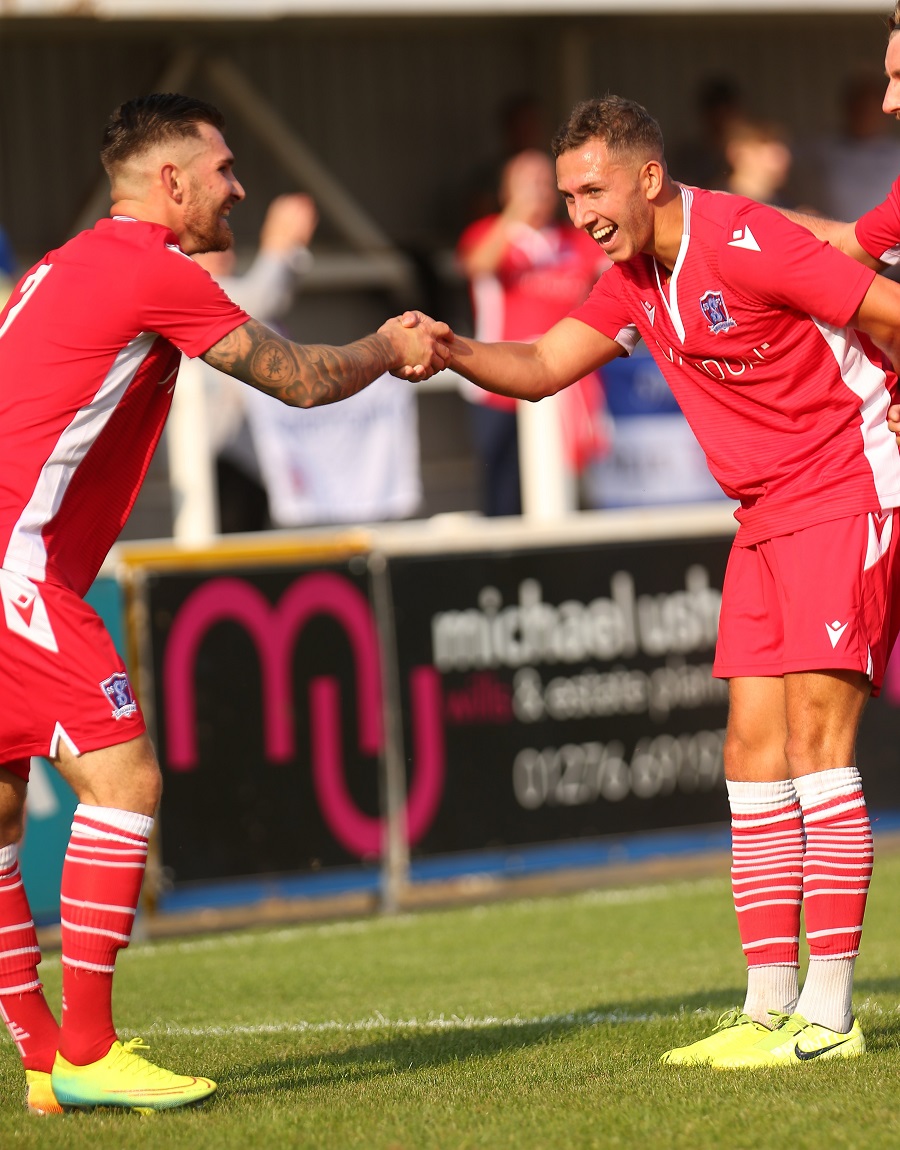 Zack and Harry celebrate with a handshake
Photo ©Jeff Youd Photography
Match Album
There were six minutes of extra time announced and this boosted Farnborough for a final push. Their pressure eventually told as Bryan Akongo bundle one home to spoil Horsell's clean sheet. Whilst he was standing in an offside position to score the ball had deflected of a Marine player. The assistant referee had his flag raised but with the referee going over to him a goal was quickly awarded. A late flurry followed as the hosts gave it their all, with Hopkins going into the book for a late challenge. But it wasn't to be for Farnborough and Supermarine held on strongly for a well deserved three points on opening day.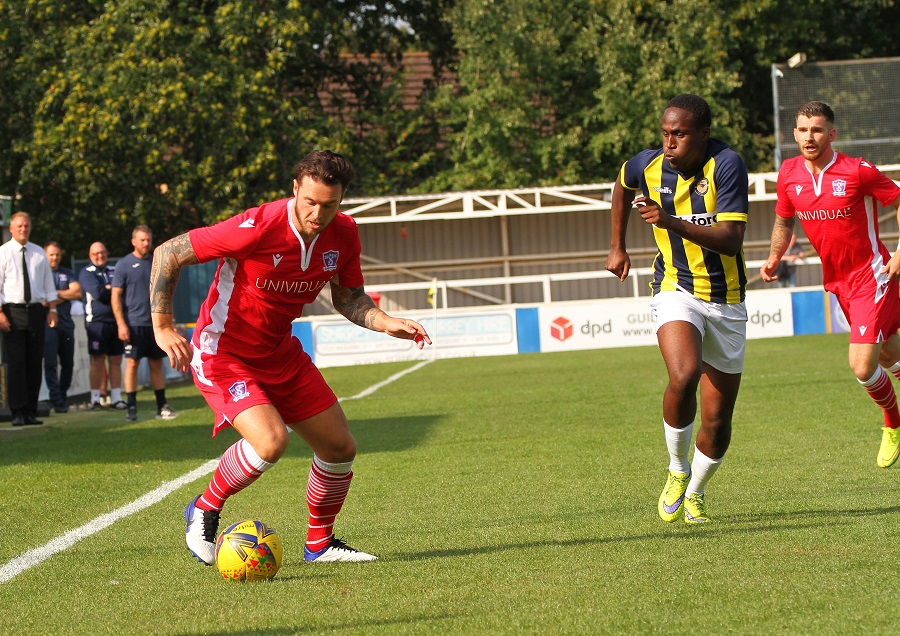 Debutant Pierce Mitchell on the ball
Photo ©Jeff Youd Photography
Match Album
An enjoyable start to the season, some excellent goals, great determination on what had been very very hot conditions and just the perfect start Marine had yearned for. My star man for Marine was a tough choice with so much effort from all the team but the skill and class up top of Conor McDonagh just gave him the edge for todays game.
FT: 1-3
MATCH LINEUPS
FARNBOROUGH


Manager: Spencer Day
Line-up: 1. Liam Beach 2. Tom Leggett (Kamon Sherell Assidjo 67m) 3. Courtney Fern (c) 4. Bryan Akongo 5. Bradley Pearce 6. Fabio Sole (Connor Cullen 54m) 7. John Oyenuga 8. Louis Dunne 9. Wiberforce Ocran (David Fitzpatrick 54m) 10. Andrew Sealey-Harris 11. Louie Paget
**Subs not used: 14. Edward Jabbari 18. Sam Shaban Goals:

Bryan Akongo 90+1m
Star Man: Andrew Sealey-Harris
Cards:
Bryan Akongo 41m Connor Cullen 87m


None


None

SWINDON SUPERMARINE


Manager: Lee Spalding
Line-up: 1. Martin Horsell 2. Pierce Mitchell 3. Louis Spalding ( 12. Michael Hopkins 79m) 4. Jamie Edge 5. Jake Lee 6. Mat Liddiard (c) 7. Zack Kotwicka
8. Brad Hooper (17. Joe Shepherd 74m) 9. Harry Williams (15. Henry Spalding 83m) 10 Conor McDonagh 11. Ryan Campbell
Subs not used: 16. Jack Stanley 14. Lee Marshall
Goals:

Harry Williams 36m

Conor McDonagh 49m

Zack Kotwicka 70m
Star Man: Conor McDonagh
Cards:
Jake Lee 53m Mat Liddiard (c) 63m Michael Hopkins 90m


None


None

MATCH HIGHLIGHTS from YOUR SPORT SWINDON
MATCH OFFICIALS
Referee: James Robinson (Southampton)
Assistant Referee's: Rob Linter, Bruce Waymark