Marine 1 Hungerford Town 2
Saturday 15th August 2020
Back to blog posts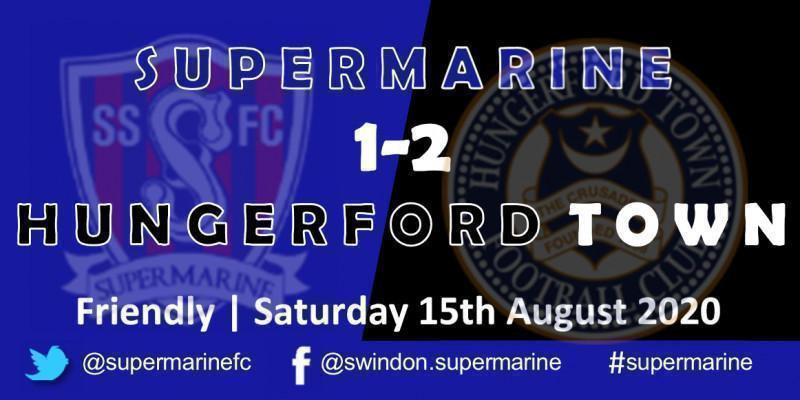 MATCH REPORT from ALECK EVERARD
MARINE LOSE TO A LAST MINUTE SCREAMER
Marine had their first home pre-season game on Saturday and also their first against higher league opponents in National League South side Hungerford Town.
Missing some key players such as Jake Lee for family reasons, Henry Spalding and Tommy Ouldridge with injury and Joe Shepherd and Michael Hopkins on holiday, it was a slightly thin squad with just four substitutes including youngster Ronan Doyle from the Development side.
It was Hungerford who were the first to show when the ball dropped for Craig Fasanmade in the box but he failed to control the ball and the chance was lost. Fasanmade did hit the target on 12 minutes but Martin Horsell did well to tip over. Former Marine Kyle Tooze was the next to try his luck for the visitors getting behind the defence but skied his shot.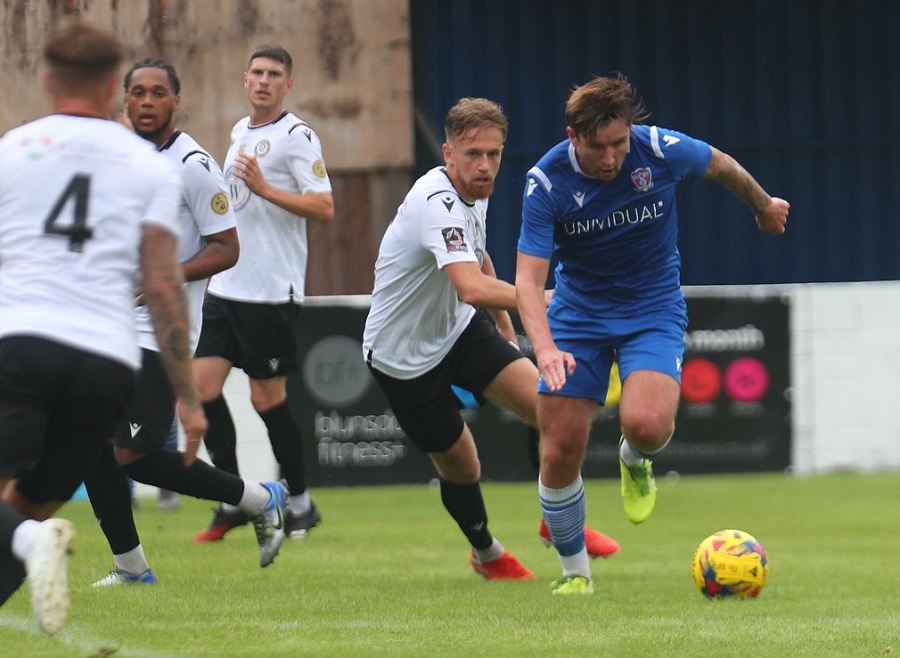 Conor McDonagh glides past a couple of defenders before scoring the opening goal
© Jeff Youd Photography
Conor McDonagh had the first effort on goal for Marine on 19 minutes but it was easily repelled by the Hungerford keeper Luke Cairney before Fasanmade dragged another decent chance wide just after.
The game then became end to end with defences having the edge. But just after the half hour Marine broke the deadlock. A lovely dribble and finish into the corner from CONOR McDONAGH after a pass from Brad Hooper. The final strike of the half come from Tooze but once again he kicked it wide of the mark. A decent first half for Marine as they led by that fine individual goal from McDonagh.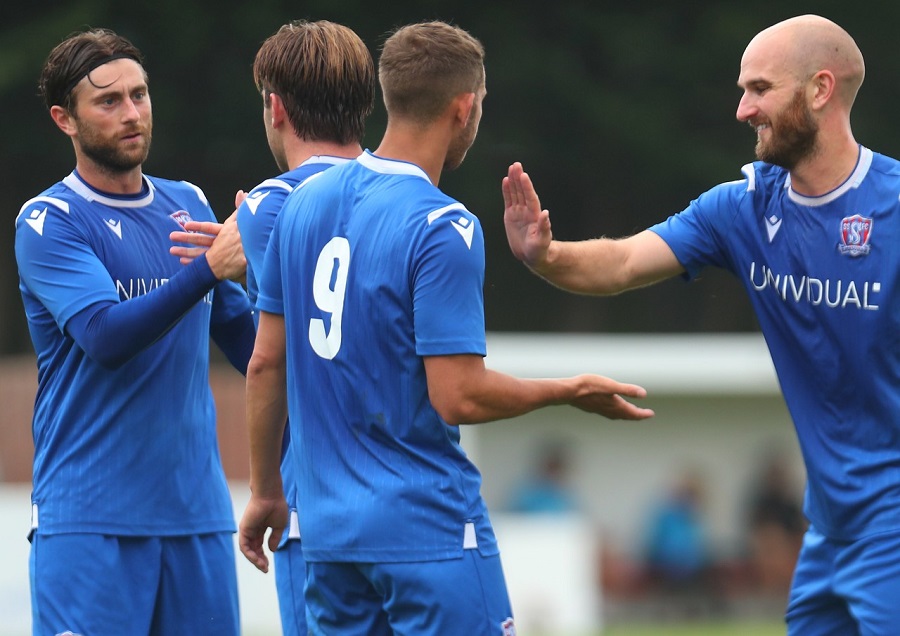 A group of players celebrate Conor's goal
© Jeff Youd Photography
HT: 1-0
Hungerford made four changes at half time to try and change the score-line with the hosts following suit on 50 minutes. Ryan Campbell and Rhys Wells replaced Harry Williams and Lee Marshall as we moved to a 4-4-2 formation. Conor McDonagh came very close to doubling the lead, beating the keeper but his shot was cleared off the line.
Pierce Mitchell picked up a slight knock and that led to the arrival of Cameron Allen. Jamie Edge slipped back into the defence due to a lack of other options with Rhys Wells moving into the middle of midfield.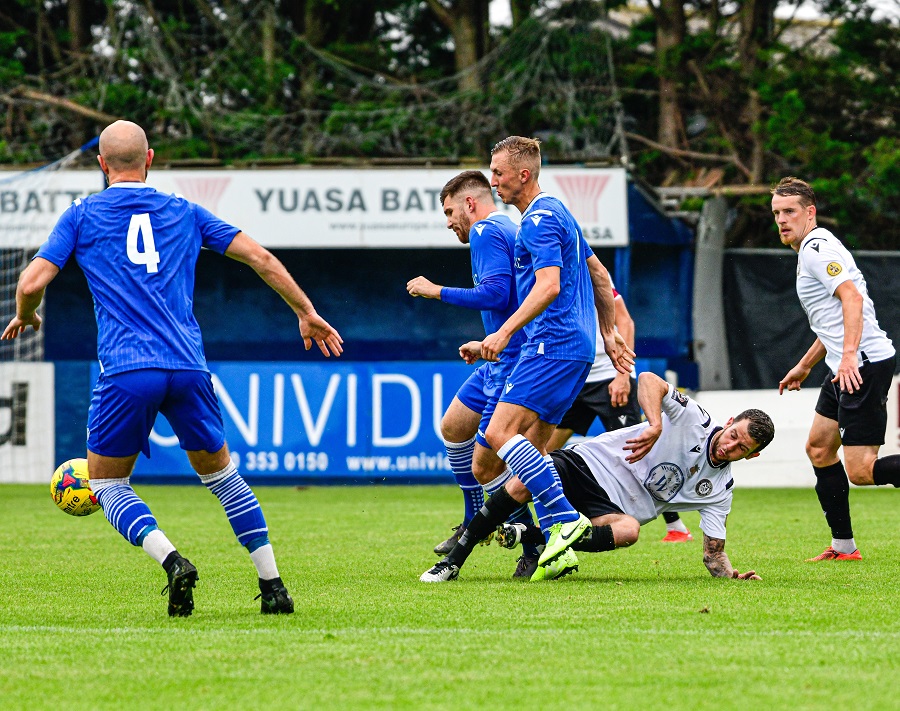 Zack Kotwica is brought down by Hungerford's Callum Willmoth
© Motion Sport Photography
The visitors then made wholesale changes as the half became stop start. Horsell did well to intercept a good through ball on 70 minutes before a controversial moment with 15 minutes to go. Hungerford substitute Maloney broke through and skipper Mat Liddiard appeared to take the ball. However the referee pointed to the spot, a very harsh decision. Hungerford striker JAMES HARDING stepped up to convert with Horsell going the right way but the ball was just out of reach.
There was a nice moment for youngster Ronan Doyle when he replaced the hard- working Hooper who was forced off with a touch of cramp.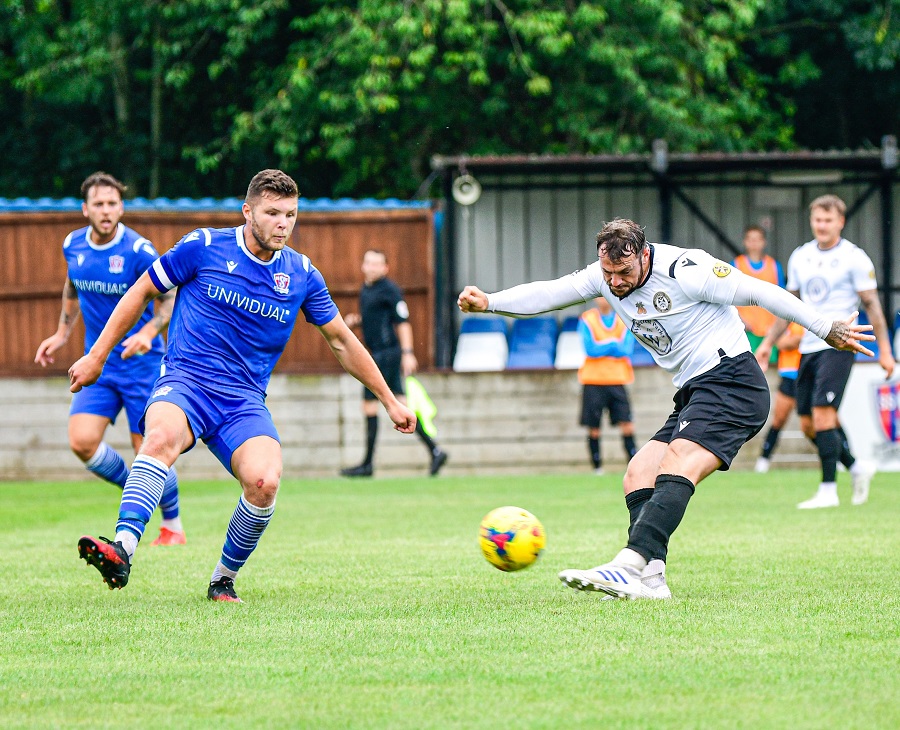 Former Marine player Kyle Tooze shoots for goal
© Motion Sport Photography
Hungerford started to get on top of possession late on with a driven shot from Sol Wanju-Smith going just over. McDonagh had another good run but hit a wayward finish and just when the game looked as if it was meandering to a 1-1 draw up stepped JAMES HARDING to score his second goal from just inside the left hand side of the box and with little back lift he hit an absolute thunderbolt into the top left hand corner. Horsell had little chance because of the ferocity of the shot. A goal worthy of winning any game.
Sadly for Marine they had deserved the draw at least but instead found themselves defeated. Hopefully a lesson to be learned when the real stuff starts. In spite of that it was a decent run out with the majority of the squad picking up their first 90 minutes of preseason and no embarrassment against higher league opposition whom they more than matched for much of the game.
FT: 1-2
MATCH LINEUPS
SWINDON SUPERMARINE


Manager: Lee Spalding
Line-up: 1. Martin Horsell 2. Jack Stanley 3. Louis Spalding 4. Jamie Edge 5. Pierce Mitchell(16. Cameron Allen 60m) 6. Mat Liddiard (c 7. Lee Marshall (15. Rhys Wells 56m) 8. Brad Hooper(14. Ronan Doyle 78m) 9. Harry Williams (12. Ryan Cambell 56m) 10. Conor McDonagh 11. Zack Kotwica
Subs not used: None
Goalscorers: Conor McDonagh 33m
Star Man: Brad Hooper
Cards:
None


None


None

HUNGERFORD TOWN


Manager: Danny Robertson
Line-up: 1. Luke Cairney 2. Louis McGrory (15. Baboucarr Jarra 61m) 3. Curtis Angel 4. Matt Patridge 5. Mike Jones (16. Jack Self 61m) 6. James Rusby 7. Jordan Edwards (12. Sol Wanju-Smith 61m) 8. Callum Willmoth 9. Kyle Tooze (14. James Harding 46m) 10. Ryan Seager (17. Luke Hopper 61m) 11. Craig Fasanmade (18. Kensley Maloney 70m)
Subs not used: George Smith, Matt Crowther (GK)
Goalscorer: James Harding 77m, 90m
Star Man: Matt Partridge
Cards:
None


None


None

MATCH HIGHLIGHTS from YOUR SPORT SWINDON
POST MATCH WITH LEE SPALDING from YOUR SPORT SWINDON
MATCH OFFICIALS
Referee: Sam Read (Swindon)
Assistant Referees: Ben Williamson (Swindon), Andrew Lincoln (Swindon)