Nuneaton Borough 3 Marine 2
Tuesday 8th September 2020
Back to blog posts
MATCH REPORT from ALECK EVERARD
SUPERMARINE LOSE AT BORO'
In their penultimate warm up game of the season a hastily arranged match at Nuneaton Borough of the PitchingIn Southern League Premier Central Division was played on Tuesday night with Marine on the wrong side of a five goal thriller.
Marine were without Conor McDonagh (personal reasons), Michael Hopkins, (injured) Joe Shepherd (injured) and Pierce Mitchel (sick) for the match at Liberty Way but brought back Zack Kotwica and Lee Marshall into the starting line up as gaffer Lee Spalding shuffled his pack.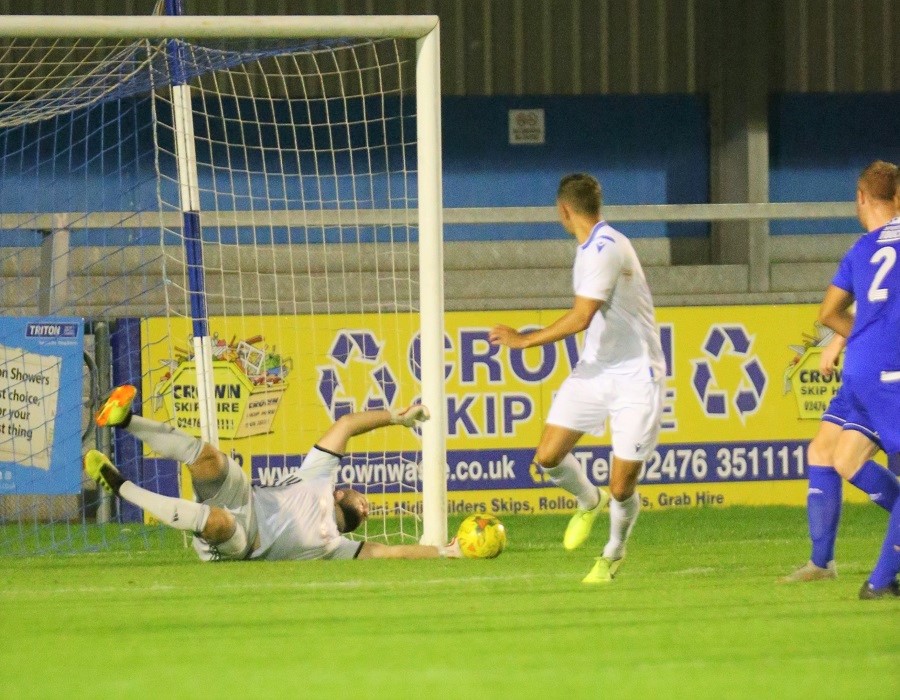 Harry Williams looks on as Zack Kotwicka's shot is saved
Photo (c) Jeff Youd Photography
(Match Album to follow)
Marine in a change strip of white got a delayed game underway at 8pm and it was the Boro' who came out of the traps first with an early effort by Ravi Shamsi shaving the post. Defences were on top for the first 15 however but the hosts had the next chances with Ryan Edmunds blasting wide and Martin Horsell having to make a regulation save from Shamsi once more.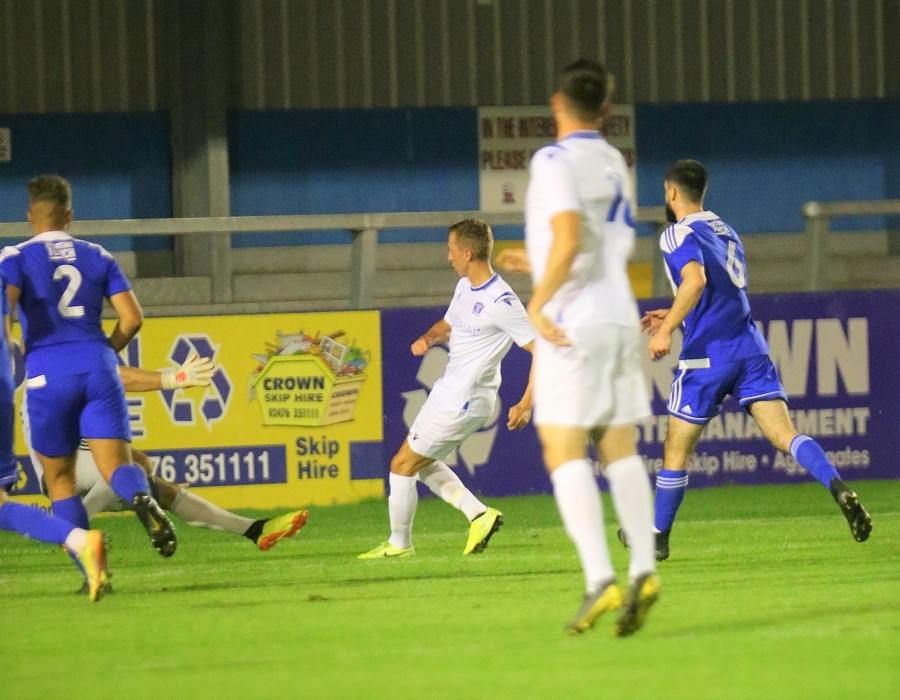 Photo (c) Jeff Youd Photography
Lee Marshall follows up Zack's parried shot to score
(Match Album to follow)
But it was Marine who broke the deadlock. Zack Kotwicka found Brad Hoooper who had broke past the Boro's defence out wide and his teasing cross and with a defender stalling on the ball Zack Kotwicka got a shot away that was parried by the home keeper Tony Breeden but LEE MARSHALL followed up to tap home from a yard out.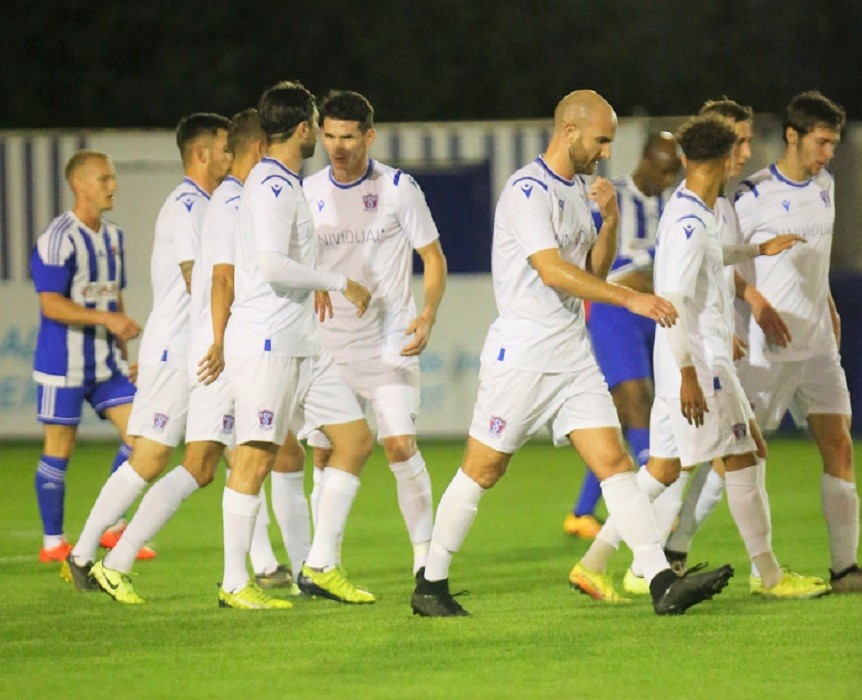 Photo (c) Jeff Youd Photography
Marshall is congratulated on his goal
(Match Album to follow)
The goal gave the team more confidence and Breeden was forced into action again giving away a corner which came to nothing. Just when it seemed they were dominant the hosts broke back when WILLIAM EDJENGUELE, headed home from a delightful cross ball from Marcus Kelly, after Jake Lee lost the flight of the ball and keeper Martin Horsell was caught flat footed as he started to come out for the cross..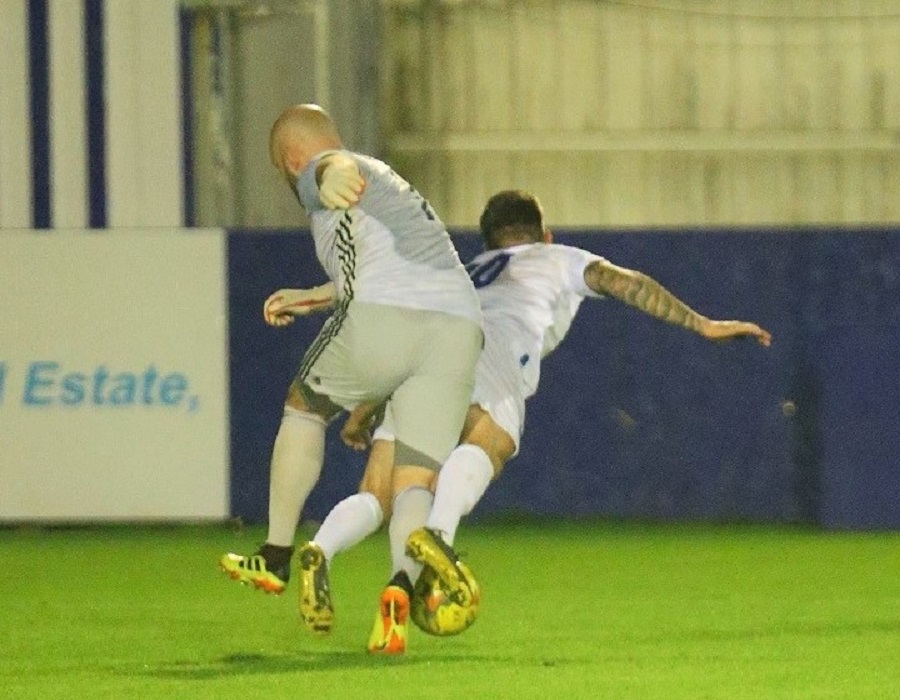 Photo (c) Jeff Youd Photography
Zack Kotwica is fouled for a penalty
(Match Album to follow)
With half time closing in Jamie Edge and Harry Williams combined with the latter feeding Zack Kotwica who broke through the defence and as he rounded keeper Breeden he bundled him over for a penalty. KOTWICA stepped up and calmly converted to give Marine the lead for the second time in the game.
Borough came out for the second half with strong intent and put on the early pressure. Edmunds went just wide again on 53 minutes before a double change was made for Marine with Rhys Wells and Tommy Ouldridge replacing the central midfield duo of Marshall and Brad Hooper, both had good games.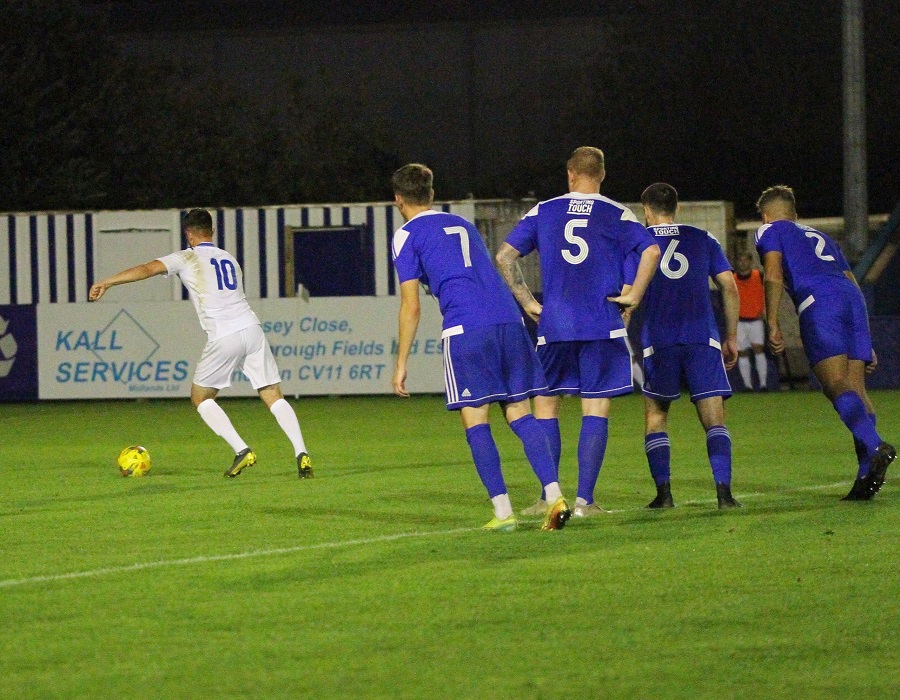 Photo (c) Jeff Youd Photography
Zack scores the penalty for a 2-1 lead
(Match Album to follow)
Seconds later the ball was in the net from Williams. However, the linesman had raised the flag for a marginal decision to rule out the goal for offside. Two minutes later Ryan Campbell broke into the box and was pushed over for a second penalty on the night to Marine.
Harry Williams stepped up this time but fired way over the crossbar. As lively as he had been it really wasn't his night. This boosted the hosts and literally 60 seconds later EDJENGUELE had a second goal – finishing from an acute angle with the sweetest off dinks to come off the far post and in after the ball dropped at his feet from another corner. Hit by a sucker punch!
Henry Spalding, still finding his feet after injury, came on for the last 20 replacing the hard working but luckless Williams. It was nearly a hattrick for centre back Edjenguele, who this time missed the opportunity from yet another corner.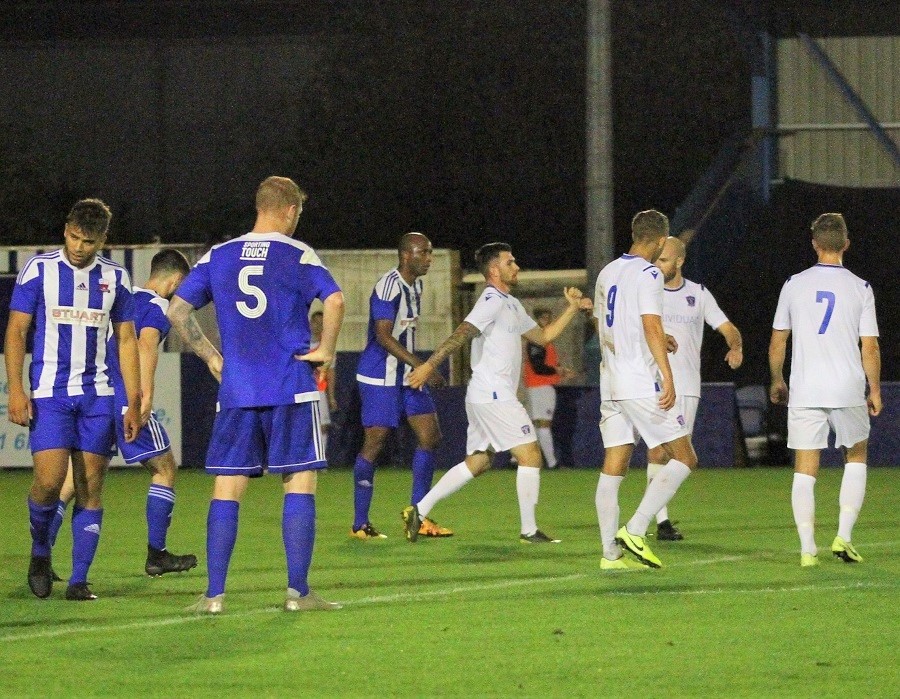 Photo (c) Jeff Youd Photography
Zack is congratulated by the players
(Match Album to follow)
Henry Spalding then came close with five minutes left, just curling his effort wide. But with three minutes to go RAVIN SHAMSI broke clear and fired the ball under the body of Horsell to give Nuneaton the lead for the first time in the game to win this friendly game.
Overall an excellent runout fitness wise for both sides. A draw would have been a fairer score, but the Spitfires won't care about the result at this stage. It is all about being ready for the opening fixture and this would have gone a long way towards that process.
MATCH LINEUPS
NUNEATON BOROUGH


Manager: Jimmy Ginnelly
Line-up: 1. Tony Breeden 20. Jordan Armsden (Trialist #2 46m) 3. Alex Tomkinson 4. Jamie Hood 5. William Edjenguele 6. Claudio Diaz 7. Perry Cotton (Josh Ruff 46m) 8. Marcus Kelley (Leroy Lita 46m) 9. Trialist #1 (Joe Kettle 75m) 10. Ravi Shasi 11. Ryan Edmunds
Subs not used: Jordan Goddard, Luke Benbow
Goals:


William Edjenguele 30m, 68m,

Ravi Shamsi 87m
Star Man: William Edjenguele
Cards:
None


None


None

SWINDON SUPERMARINE


Manager: Lee Spalding
Line-up: 1. Martin Horsell 2. Jack Stanley 3. Louis Spalding 4. Jamie Edge 5. Jake Lee 6. Mat Liddiard (c) 7. Lee Marshall ( 14. Rhys Wells 60m) 8. Brad Hooper (15. Tommy Ouldridge 60m) 9. Harry Williams (14. Henry Spalding 70m) 10 Zack Kotwicka 11. Ryan Campbell
Subs not used: None
Goals:

Lee Marshall 15m,

Zack Kotwicka 41'pen
Star Man: Lee Marshall
Cards:
None


None


None

MATCH HIGHLIGHTS from YOUR SPORT SWINDON
MATCH OFFICIALS
Referee: Ollie Mackey
Assistant Referees: Unkown