Marine 6 Walton Casuals 1
Southern League Premier South | Saturday 22nd January 2022
Back to blog posts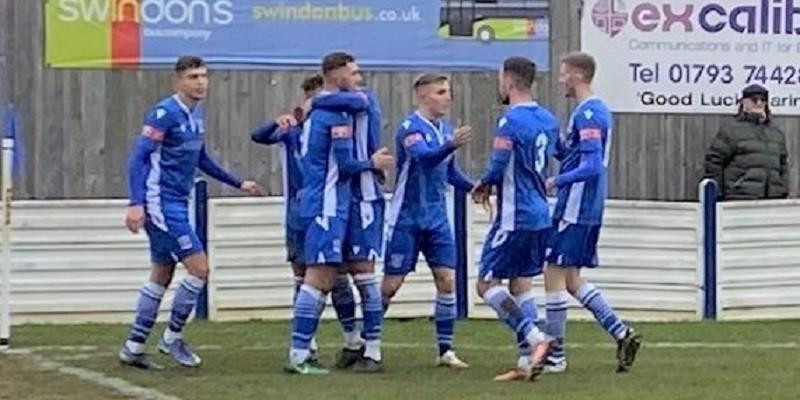 Match Report from Aleck Everard
Marine were back in League action on Saturday afternoon as they took on Walton Casuals at the Webbswood Stadium. Marine brought in on loan keeper Jed Ward for his debut replacing Martin Horsell who missed the game Covid. Tyrone Duffus replaced the suspended George Dowling with Jamie Edge moving back into his more familiar midfield spot and midweek goal scoring hero from Tuesday, Ryan Campbell returned on the left in place of Kinsly Murray who dropped to the bench. Tom Sharpe returned to the squad on the bench but missing through injury were still Pierce Mitchell and Frankie Artus.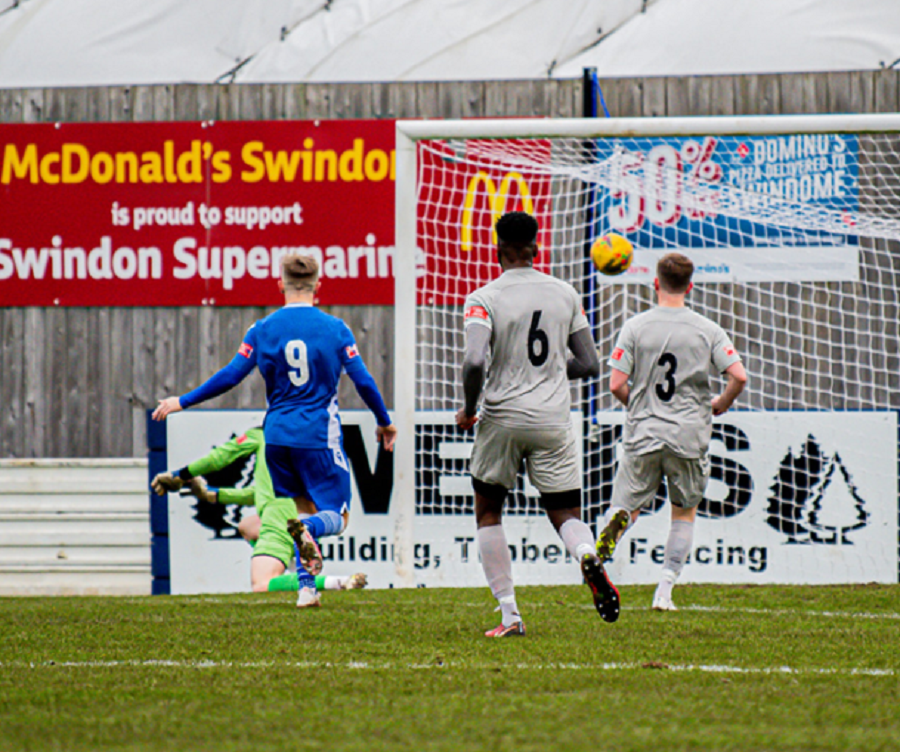 Ryan Campbell scores Marine's first goal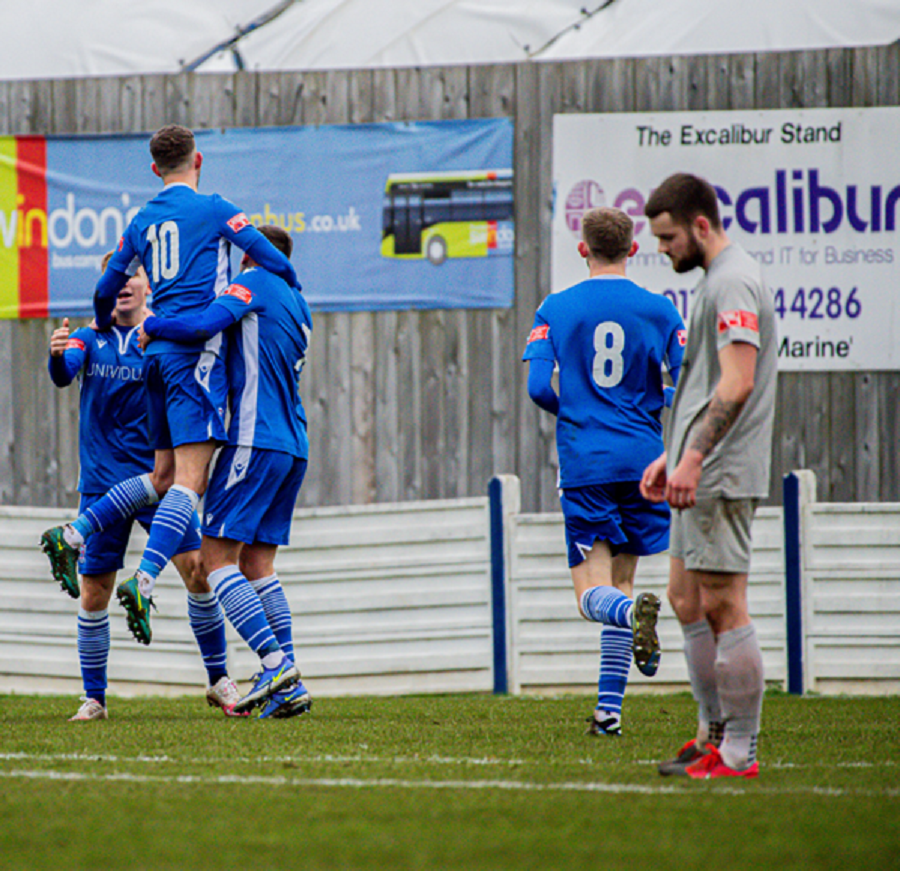 The players celebrate Campbell's goal
Photos © Motion Sport Photography / Match Album
The game started fairly evenly, Mat Liddiard heading over an early corner. Marine slowly started to push forwards and Walton defender Jerry Wiltshire saw an early yellow for a cynical foul on Ryan Campbell as he was bursting through. Jed Ward in the home goal was tested from a free kick on thirteen minutes after Jamie Edge had tripped Walton's Rohdell Gordon. Ward got down well to his right to push away a low shot from Tom Bird. The visitors then had a half hearted penalty appeal turned away but it Marine who finally opened the scoring in the twenty-fifth minute.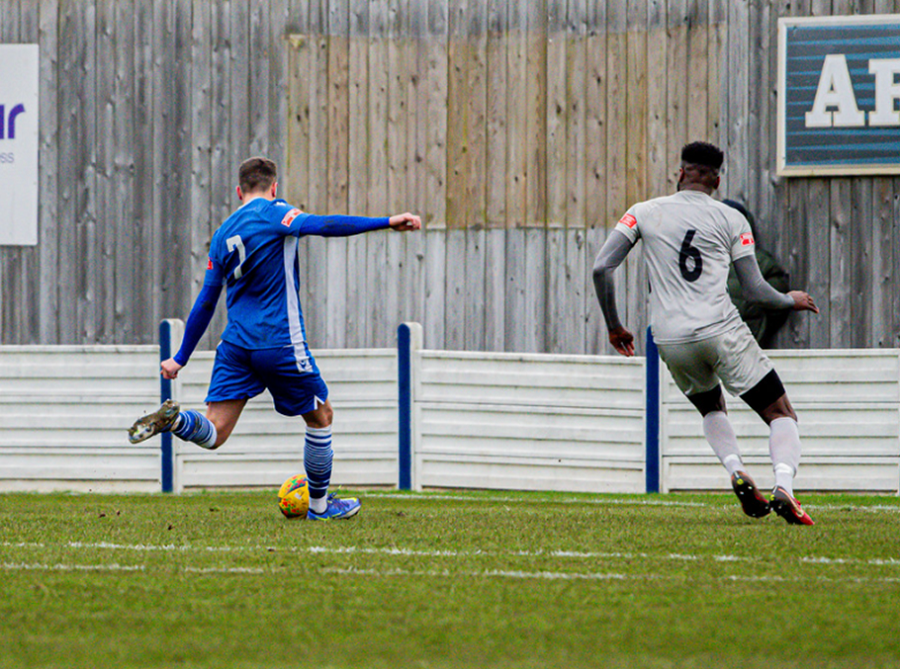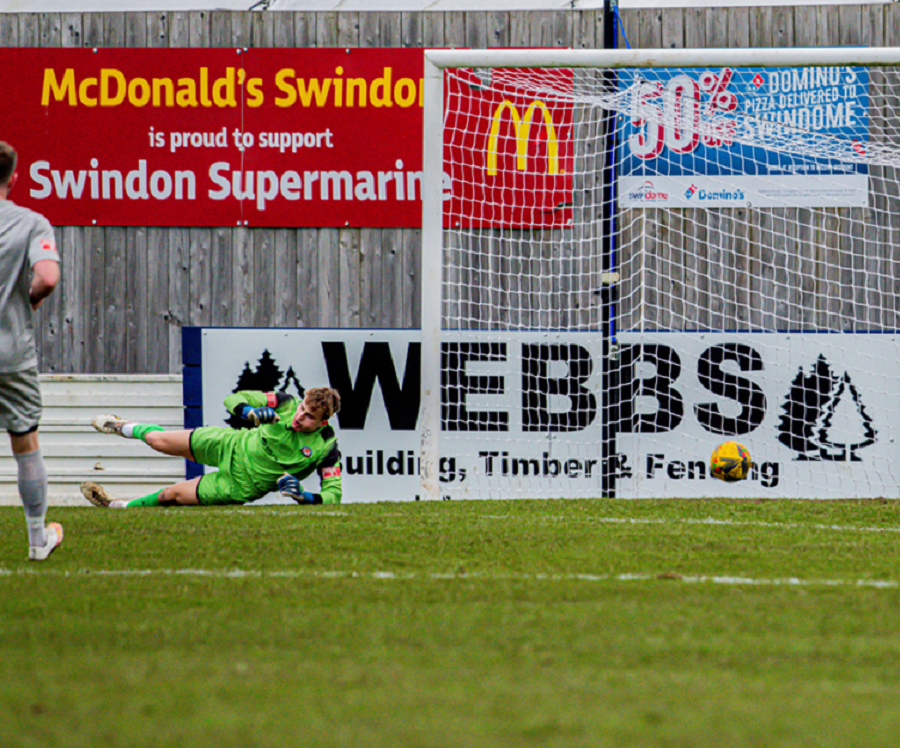 Henry Spalding's close range shot goes in for Marine's second goal
Photos © Motion Sport Photography / Match Album
Marine broke out of defence with speed and a succession of passes ended with the ball at the feet of Henry Spalding who unselfishly set up RYAN CAMPBELL who was given too much room on the edge of the box. He ran forward and blasted it through the outstretched hands Walton Jacob Adams for his second goal in two games. The hosts highlighted their dominance by making it 2-0 just thirteen minutes later. A lovely move saw Kieran Phillips break through on the left. He then squared the ball across the box into HENRY SPALDING whose shot deflected off a defender to wrong foot the keeper. Overall a solid half for Marine, defending stoutly and punishing Walton with a couple of clinically finishes up top.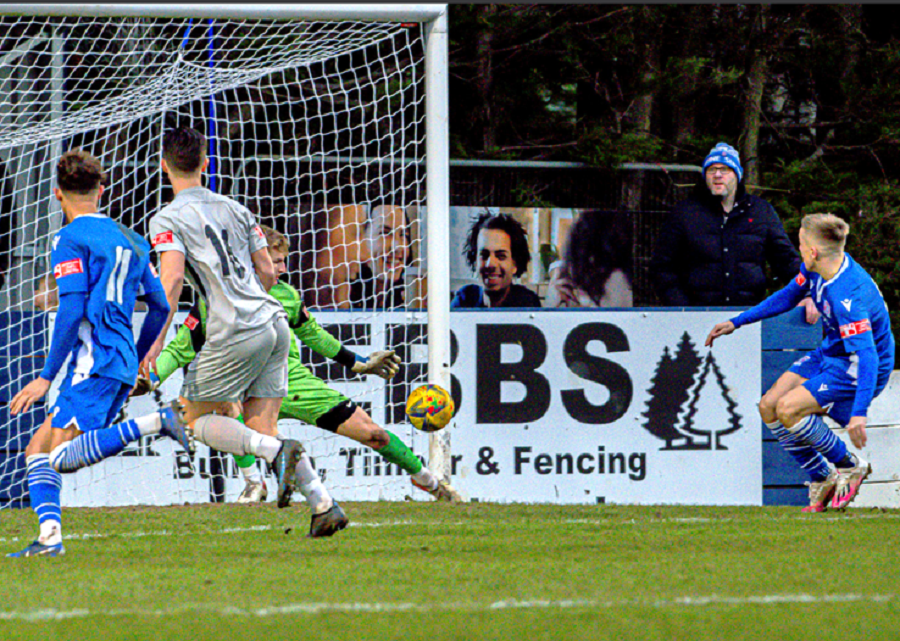 Kieran Phillips scores Marine's third goal
Photo © Motion Sport Photography / Match Album
The second half got off to the perfect start. Ryan Campbell fed in Tom Mehew but Adams got down well to block the effort. But on forty-eight minutes the victory was all but sealed. Harry Williams persistence on the right wing meant he eventually put a perfect ball in for KIERAN PHILLIPS to put in a predatory finish to make it 3-0 for Marine and ten goals from fifteen games for the striker.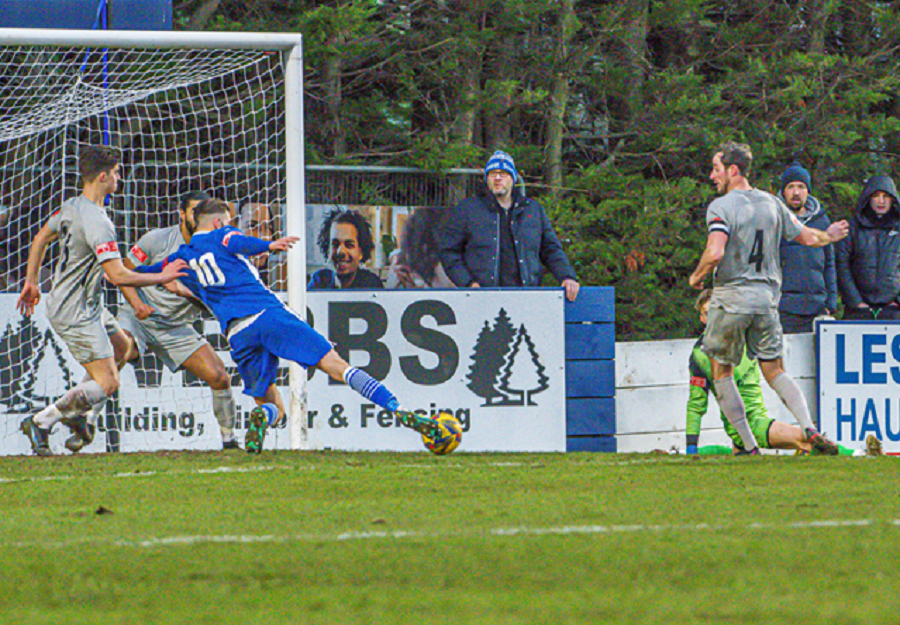 Harry Williams grabs Marine's fourth goal
Photo © Motion Sport Photography / Match Album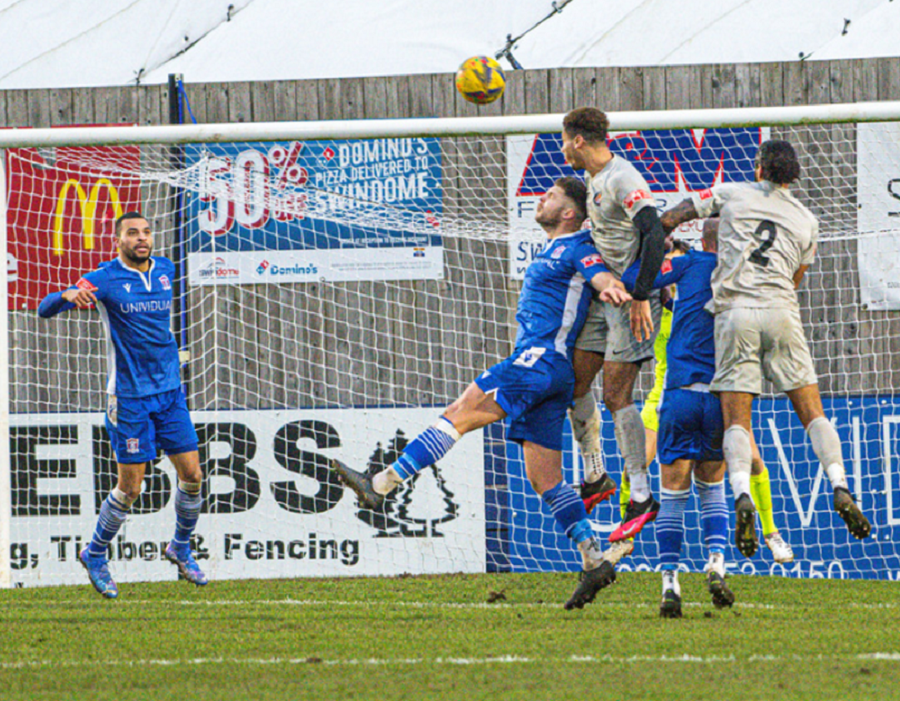 Walton's Jerry Wiltshire gets above the Marine defence to nod home
Photo © Motion Sport Photography / Match Album
Kieran Phillips, now confident from scoring the goal, looked for another soon after but blasted high over the bar. Marine now dominated possession and it was no shock when this resulted in goal number four on sixty-two minutes. Tom Mehew set up Harry Williams for a shot which was well saved by Adams but from the rebound Mehew got to the loose ball first and squared it to HARRY WILLIAMS who poked the ball home from close range for a 4-0 scoreline.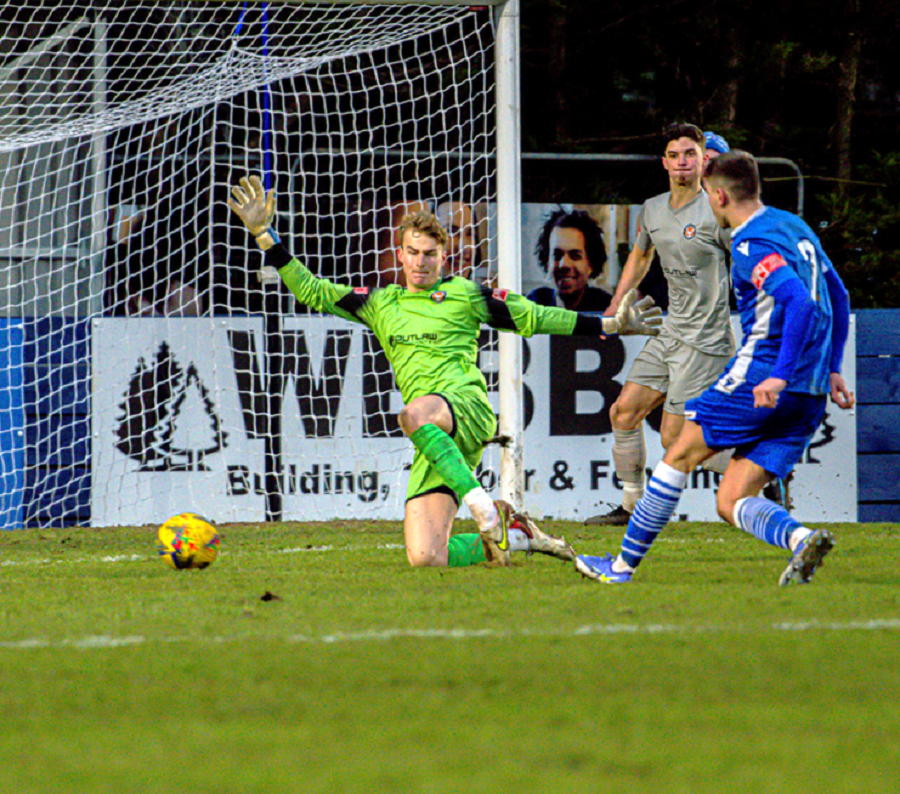 Henry Spalding scores he's second goal of the game and Marine's fourth
Photos © Motion Sport Photography / Match Album
Rohdell Gordon saw yellow for a late tackle on Kieran Phillips as the visitors continued to struggle but from a set-piece JERRY WILTSHIRE rose highest to plant home a well directed header into the bottom corner for the net to pull a goal back and make it 4-1. Marine responded instantly as Tom Mehew broke through the Walton defence again and this time unselfishly laid it on for HENRY SPALDING who thumped it home for his brace and 5-1 lead. Shortly afterwards came one of the shots of the game from Ryan Campbell after a fine run he's effort was superbly beaten away by Jacob Adams in the Walton goal and minutes later Zack Kotwica replaced Campbell who had an excellent game.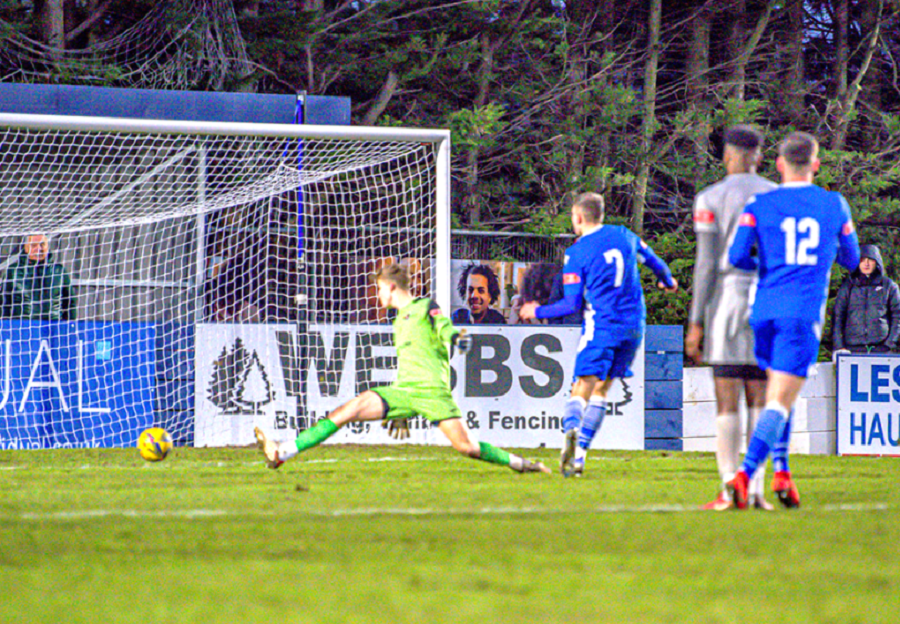 Henry Spalding scores his third goal of the game and Marine's sixth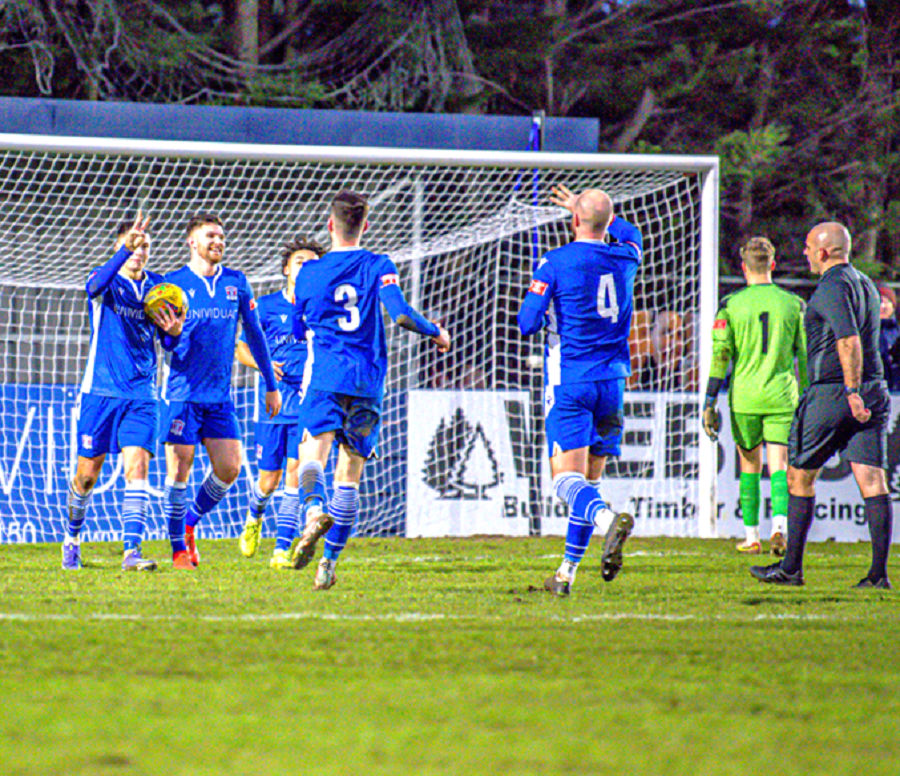 Henry grabs the match ball and indicates to the players, that's 3!
Photos © Motion Sport Photography / Match Album
Tom Mehew broke through the Walton defence once more on seventy-seven minutes but put the shot wide before Kinsly Murray replaced the ever dangerous Kieran Phillips on eighty minutes. The final sub came when Tom Sharpe back from injury replaced the excellent Tom Mehew with eight minutes left to a hearty applause from the home support for his endeavours. Walton's Josh Lelan was booked for a poor challenge on ninety minutes and perhaps lucky not to see red but Marine inflicted the final wound with the last attack of the match and it allowed HENRY SPALDING to complete his second hat-trick of the season after he broke through the back line and slid the ball into the corner to come away with the match ball.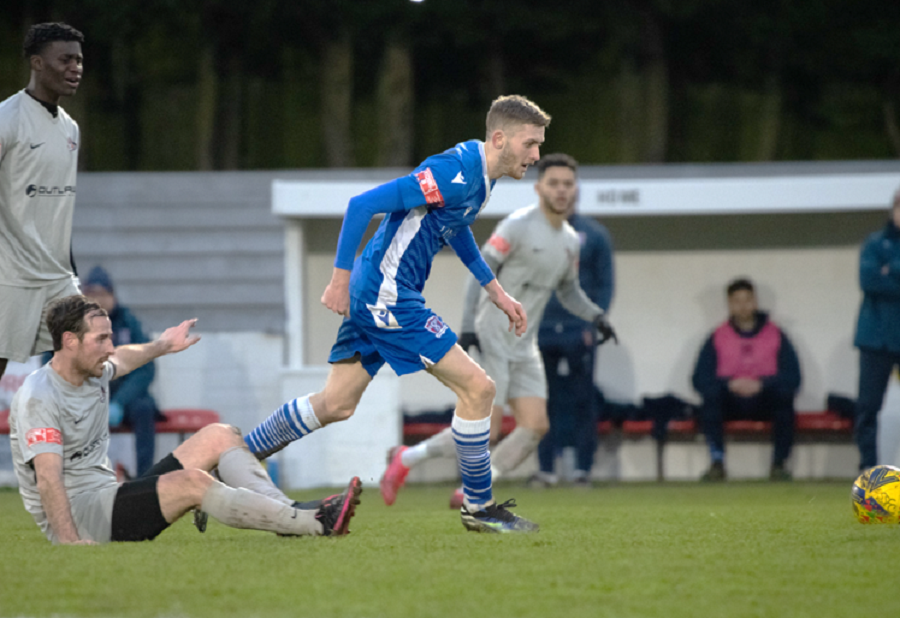 Tom Mehew, fans man of the match
Photos © Motion Sport Photography / Match Album
Line Ups
Swindon Supermarine


Manager: Lee Spalding
Colours: All Blue Line-up: 1. Jed Ward 2. Michael Hopkins 3. Lewis Hall 4. Jamie Edge 5. Tyrone Duffus 6. Mat Liddiard(c) 7. Henry Spalding 8. Tom Mehew (15. Tom Sharpe 82') 9. Kieran Phillips (16. Kinsly Murray 82') 10. Harry Williams 11 Ryan Campbell (12. Zack Kotwica 75')
Subs not used: 14. Brad Hooper
Goalscorers:

Ryan Campbell 28',



Henry Spalding 39', 70', 90+2,

Kieran Phillips 48'

Harry Williams 67'
Star Man: Henry Spalding
Cards:
Tyron Duffus 67'


None


None

Walton Casuals


Manager: Anthony Gale
Colours: All Silver
Line-up: 1. Jacob Adams 2. Josh Lelan 3. Tom Bird 4. Shaun McAuley (c) 5. Jerry Wiltshire 6. Tarik Moore-Azille 7. James O'Halloran (16. Zack Chislett 46') 8. Bradley Keetch 9. Adam Liddle 10. John Gilbert (15. Daniel Rowe 58') 11. Rohdell Gordon (17. Ansu Jenneh 76')
Subs not used: 12. Gabriel Odunalke, 14. Abdul Osman
Goalscorers:

Jerry Wiltshire 68'
Star Man: Jacob Adams
Cards:
Jerry Wiltshire 12', Rohdell Gordon 65', Josh Lelan 90+1'


None


None

Post Match Team Sheet
Click here for post match team sheet
Match Officials
Referee: Ben Duffill (Bulford)
Assistant Referees: Tim Bunt (Salisbury), Lucas Bomela (Salisbury)